Service Categories
Clients References

Hi, we are Catherine and Adele from Australia. We have just completed the Annapurna Sanctu ary Trek. After arriving in Kathmandu without a guide, which can be some what stressful. Someone without a guide, which can be some what stressful. Someone
More>>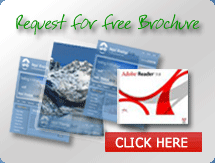 Quick Inquiry Form
Annapurna Jomsom Muktinath Trek
Trip Highlights
| | |
| --- | --- |
| Trekking route  | : Pokhara to jomsom by flight to muktinath & Back to Nayapul |
| Total Duration   | : 15 night's/16 days in total |
| Trek Duration | : 10 days |
| Grade | : Leisurely to Moderate |
| Max. Elevation | : 3800 meters at Muktinath |
| Trekking style | : Teahouse basis |
| Meal | : Full board on trek |
| Accommodation | : Lodge on trek |
| Transportation | : Tourist bus, Flight & private vehicle |
| Best Months  | : Sept - Nov & Mar - May |
Trip Introduction
Jomsom Muktinath trek is one luxurious and famous trek in Nepal. In this trek you have a chance to see & explore the real typical village with its traditional lifestyle. The treks starting from fly to Jomsom and follow the alpine desert to the Muktinath, which is a famous pilgrimage center. You can enjoy the view of High mountains and chances to see the arid area to the below part of pine forest trails with nice traditional villages and through serene landscapes on a country side. Hot spring is the more attraction to the visitors and can enjoy the day at hot spring which is lies in the river bank of Kaligandaki.
During the trekking at higher place we will reaches at Muktinath from where can see wonderful panoramic views of the upper mustang as well as highest mountains range of Dhaulagiri, Annapurna and far west to the Dolpo part. Throughout the trek you'll see close up views of Dhaulagiri and it's icefall, Annapurna and the Kaligandaki Valley also be able to take a relaxing natural hot springs at Tatopani and may have explore the local lifestyle, culture, climate and topography. You'll see some World Heritage Sites in Kathmandu valley which was listed by UNESCO. This may have good choice for anyone who are looking for introductory trek on a limited timescale as well as a good choice for family trek as well with beginners.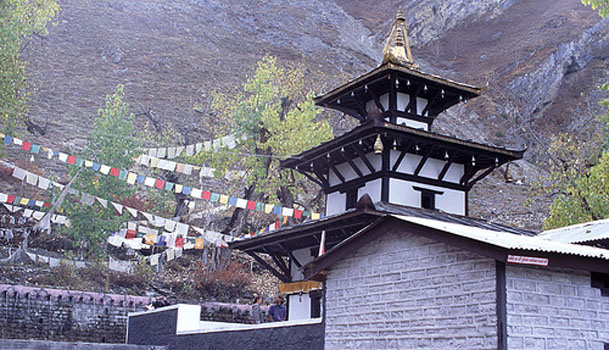 Trekking Itinerary
Outline Itinerary
Day 01: Arrive Kathmandu
Day 02: Kathmandu Valley sight-seeing
Day 03: Kathmandu to Pokhara
Day 04: Pokhara to Fly Jomsom to trek Kagbeni (2800 m) 3 hrs
Day 05: Kagbeni to Muktinath (3800 m0 4 hrs
Day 06: Muktinath to Marpha (2,670m) 4-5 hrs
Day 07: Marpha to Ghasha 2,010m: 6-7 hrs
Day 08: Ghasa to Tatopani 1,100m: 4-5 hrs
Day 09: Tatopani (Relaxing day)
Day 10: Tatopani to Ghorepani (2772m) 6-7 hrs 
Day 11: Ghorepani to Poon hill (3210 m) to Tadapani (2660 m.) 5-6 hrs
Day 12: Tadapani to Ghandruk (1926 m.) 3-4 hrs
Day 13: Ghandruk Nayapul to Pokhara 4-5 hrs walk 2 hrs drives
Day 14: Drive back to Kathmandu. 200 k.m. 5-6 hrs Bus Journey
Day 15: Leisure at Kathmandu
Day 16:Departure from Kathmandu
Day to day Itinerary

Day 01: Arrive Kathmandu
Namaste and welcome to the Himalayan country of Nepal. You will be meet at the airport and be transfered to your hotel for check-in. After time to get refreshed, you will be meet in the evening for a welcome dinner in one of the finest Nepalese restaurants which includes a cultural show. Then afterwards you will be briefed about your trip and brought back to the Hotel for your overnight stay.


Day 02: Kathmandu Valley sight-seeing
Today, after breakfast you will go on a guided sightseeing tour of the highlights of Kathmandu and the surrounding Valley. You will visit Swoyambhunath Stupa, also known as the Monkey Temple, with its fine views over Kathmandu valley. The temple has many interesting features as well as the great stupa with highest point to the Kathmandu valley.
After this you can join the devotees, pilgrims and wandering saddhus (holy men) at Pashupatinath. Pashupatinath is the most important Hindu temple in Nepal as well as being one of the most important Shiva temples on the subcontinent. It is situated on the banks of the holy Bagmati River where you may have a chance to see a cremation on the River bank.
Take time to walk around Bodhnath (Boudha) stupa, the largest in Nepal and one of the largest in the world. Boudha is also the centre of Tibetan culture in Nepal and a wonderfully vibrant, interesting community.
Explore the temples and courtyards of Patan, also known as the City of Fine Arts. In the evening we'll drive back to Kathmandu where we'll have a group briefing on what to expect when our trek begins tomorrow. The remainder of the evening is free for you to explore the surrounding area or simply relax at the hotel.


Day 03: Kathmandu to Pokhara
This morning we'll drive (approximately seven hours with breaks) through beautiful Nepalese countryside to reach the relaxing lakeside resort of Pokhara. Arriving in Pokhara we'll check in to our hotel and the remainder of the day is free to relax and perhaps explore the local area.


Day 04: Pokhara to Fly Jomsom to trek Kagbeni (2800 m) 3hrs
Today in the morning we take a scenic flight to Jomsom. This takes 25 minutes through two Himalayan ranges. We then trek for 3 hours to Kagbeni along the Kaligandaki river bank. The left fork of the path continues up the river to Kagbeni. Later in the afternoon you can visit a seven hundred year old monastery and visit the small alleys in the village and overnight at Hotel.

Day 05: Kagbeni to Muktinath (3800 m)4 hrs
Today the trails leads you gentley uphill about 4 hrs to get to Muktinath via Jharkot. Muktinath is a pilgrimage place with picturesque mountain desert scenery. Muktinath is the holiest of all holy places and during auspicious times according to Hindu & Buddhist calendar this place is full and busy with pilgrims from Nepal and India.

Day 06: Muktinath to Marpha 2,670m: 4-5 hrs
Today, you wake up early in the morning to the divine sound of temple bells and visit the famous pilgrimage center of the Muktinath Temple area. After breakfast it is an easy trek down to Eklebhatti and on to Jomsom, a large town and the headquarter of the Mustang region. It has an airstrip just above the Kaligandaki River and is also a major village on the Kaligandaki area linking the age old Trans-Himalayan Salt Trade route to Tibet. From Jomsom onwards it is very windy in the afternoon, the path follows the Kaligandaki down stream with different views of the mountains and sandy paths. 
Another two hours of easy walking from Jomsom towards the south-east brings you to Marpha for the overnight stop. This is a little gem, with whitewashed houses, paved streets and numerous well kept lodges. Here you will have time to celebrate with the local apple products like cider, brandy and juice. This area from Kagbeni to Larjung is famous for its delicious apples and its product. Visit Marpha village with its Monastery, Apple Brandy factory and surroundings.

Day 07: Marpha to Ghasha 2,010m: 6-7 hrs
After a wonderful time at Marpha, today's long trail crosses the river back to the west side via a series of temporary bridges just before Kalopani (a small Thakali village) at 2,590 m. This is a best view point for mt. Annapurna 'I' and only one place to see it completely along the whole circuit. This is a long and tidy Thakali village with a Dhaulagiri technical school. Kalopani, another lovely village of more than 20 houses with excellent tea houses and lodge with grand view of Mt.Annapurna I, Nilgiri's and Dhaulagiri above the beautiful forest surrounding. The walk from Kalopani onwards leads to a dramatic change in the vegetation and overnight at Ghasa.

Day 08: Ghasa to Tatopani 1,100m: 4-5 hrs
Today we walk towards a warmer region. After Ghasa one can witness a dramatic change in the vegetation, from dry arid desert to pine and conifer forests while passing through and between Dhaulagiri and Annapurna. The trek passes through the village of Rupsi with its beautiful waterfall, good views of the mountains and reaches Dana which is the deepest gorge of the world. A Further hours walk take you to Tatopani and its Hot springs where you can have a natural bath and stay overnight at the Hotel.

Day 09: Tatopani (Relaxing day)  
Enjoy this day in the Hot spring by the Kali Gandaki river bank after long walking days and free from the hassle of packing. Here you can have a massage near by the poolside and explore Tatopani bazaar.

Day 10: Tatopani to Ghorepani (2772m) 6-7 hrs
Today after a wonderful rest at Tatopani we have a long walk up hill. Our trek continues towards east on the gradual trail for an hour crossing a suspension bridge over the Kaligandki river and starts to climb to Sikha, with a view of terrace field and landscapes. From here it's a gradual climb for most of the way, leaving behind the terraced fields and walking through the dense rhododendron forests to reach the village of Ghorapani for our overnight stay.

Day 11: Ghorepani to Poon hill (3210 m) to Tadapani (2660 m.) 5-6 hrs
Today your guide will wake you early in the morning for a 40 minute hike up to Poonhill with the help of flash-light or moon light offering morning glimpse of stars and walking through the Rhododendron forest.
Poonhill is named after the hill tribe Pun, inhabitants of Ghorepani and the surrounding area. It is also an Advantage spot for the most panoramic scenery from the far western Himalaya of Dolpo, Mt. Dhaulagiri, Annapurna including Mt. Machhapuchare (Fish Tail) Manaslu all the way to Ganesh Himalayan range. Nearly 600 k.m range of mountains can be viewed from this great spot with the spectacular sunrise on the mid western Himalaya range. After a great time here return to Ghorepani for breakfast and continue trek to Tadapani, the walk passes through the Rhododendron, Pine, fur & bamboo forest with few short up and downs and finally you reach Tadapani.  This is a wonderful place with close views of the Annapurna and Fishtail mountains, situated in the midst of the rain and alpine mixed forest. This takes around five hours walking up & down with a lunch break at Banthanti.

Day 12: Tadapani to Ghandruk (1926 m.) 3-4 hrs
Today's walk leads through the serene forest for an hour on the gradual path to Bhasi Kharka. From this spot the trail descends with occasional views of the Mt.Annapurna ranges & Machhapuchre (Fishtail).
The trial descends through forest, creeks and small streams and into the maze of trails until Ghandruk village is reached. This is a semi-modern village and gateway to Annapurna Sanctuary. On reaching Ghandruk at lunch time you have enough time to explore the village and Gurung culture.We will stay here for the night stop

Day 13: Ghandruk Nayapul to Pokhara 4-5 hrs walk 2 hrs drives
Today we have a pleasant walk on this last day of the trek.  The path leads to a long descent towards Syauli Bazaar for two hours and from here the path follows the Modi River all the way to Nayapul and passes through another nice village at Bhirethati. From this place after a short walk of 30 minutes you reach Nayaul. Form here we have a two hours scenic drive to Pokhara for the overnight stop near by the Lake Phewa.

Day 14: Drive back to Kathmandu. 200 k.m. 5-6 hrs Bus Journey
Today, in the morning you will drive back to Kathmandu  with river views of Marsyangdi and Trisuli River. The drive passes through numerous towns and farm villages with great scenery of the farm fields, terrace landscapes. Reaching Kathmandu, you will return to the hotel and have the evening to explore the surrounding areas or to relax in the Hotel.

Day 15: Leisure at Kathmandu
This is a full day at leisure to rest and relax, to explore the local area and perhaps do a bit of last minute shopping at the heart of Kathmandu valley. You also have the option of doing some sight-seeing including Bhaktapur and Patan. Afterwards, you will have an evening farewell dinner with your crew and overnight at Hotel.


Day 16:Departure from Kathmandu
Today is free or last minute shopping for souvenirs or gift to your family, friends or relatives for you until your departure flight/drive or to commence any extra trips or activities you may have booked with us. If departing, you'll be transferred to the International Airport for your departure flight to your onwards destination.


Note: The itinerary may flexible during the trek depending upon the clients requirements and fitness.

Extending your holiday
In Nepal, there are many choices and options if you'd like to extend your holiday before or after your main booking. Here are just a few suggestions of extensions available for this trip:

- Travel to the Trans Himalayan country with its mysterious and spiritual land of Tibet
- Visit land of the thunder dragon known as Bhutan
- Take a memorable wildlife safari with Elephant back ride in the Chitwan National park
- White water River rafting in the Himalayan country of Nepal
- 1 hour amazing mountain flight closest to the Mt. Everest
- Visit Darjeeling/Sikkim tour to India.
- Extend your trek in different trekking areas
- Bungee Jumping, Paragliding, Mountain biking and many more. >>>

Service Includes
4 Night Delux twin sharing accommodation in Kathmandu in 4 star hotel and 2 night standard hotel in pokhara
All local transportation by suitable vehicle(car, van, bus) in Kathmandu & Pokhara
Complementary welcome and farewell dinner in Kathmandu
A day Kathmandu sightseeing as per itinerary with tour guide, vehicle & entry fees
Kathmandu to Pokhara to Kathmandu by regular tourist bus (Optional private vehicle)
Pokhara Jomsom flight ticket
Meal on full board (breakfast, lunch, dinner, tea & coffee) basis during the Annapurna Jomsom Muktinath trek
Accommodation on teahouse/lodge during the Annapurna Jomsom Muktinath trek
Annapurna Jomsom Muktinath trek leader (English speaking, First Aid and eco trained), Sherpa helper(for each two member), all payments
Annapurna Conservation entry fee ,  TIMS and all major permit and entry fee
Exclusive medical kit bag
All government and local taxes
Intl. flight ticket re-confirmation
Submit your tourist registration form to the require embassy/consulate
Service does not Includes
Enjoy the adventure with our Himalayan guides and take good memories away with you from Nepal.