Service Categories
Clients References

Hi, we are Catherine and Adele from Australia. We have just completed the Annapurna Sanctu ary Trek. After arriving in Kathmandu without a guide, which can be some what stressful. Someone without a guide, which can be some what stressful. Someone
More>>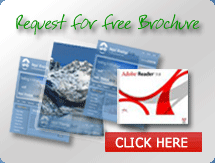 Quick Inquiry Form
Gokyo Cho-la Pass & Everest Base Camp Trekking
Trip Highlights
| | |
| --- | --- |
| Trekking route  | : Lukla to Gokyo chola pass & Everest base camp to lukla |
| Total Duration   | : 19 night's/20 days in total |
| Trek Duration | : 16 days |
| Grade | : Moderate to Adventurous |
| Max. Elevation | : 5545meters at top of the Kalapathar |
| Trekking style | : Tea house trek |
| Meal | : Full board on trek |
| Accommodation | : lodge on trek |
| Transportation | : Flight & private vehicle |
| Best Months  | : Sept - Nov & Mar - May |
Trip Introduction
Gokyo a hidden valley with few glacier lakes and Everest Base camp has own meaning for adventurous peoples. This is one of the popular and adventurous trek higher places of Khumbu valley. The Khumbu region is intelligibly one of the most popular and a spectacular destination for adventure seekers and it offers the best opportunity to gain the Himalayan experience. This trek begins with a dramatic scenic flight to Lukla and the trail follows many farm villages with beautiful views of the high snow capped peaks of the world, and to the famous view point Gokyo ri and higher pass Cho La with the highest spot at Kalapathar for the outstanding breathe taking panoramic view of glacier lakes, many higher mountains including Mt. Everest. To visit the Everest Base camp, glaciers and lakes figuring in different shapes makes you over whelming and glacier cracking sound makes you fear love.
Sagarmatha National Park is listed by world heritage sites, which cover Everest region and offers the spectacular view of the highlights of higher mountains as well as friendly Sherpa people, who are break recorder to climb the highest mountains along Mt. Everest. Himalayan wildlife commonly seen as musk dear, mountain goats, colorful Pheasants besides these rare species of Red Panda & Snow Leopard are an another attraction for the visitors. Pine and birch tree are the common forest here as well as colorful rhododendron flowers welcome you on spring. Monasteries can be found most of the places in bottom part, which makes you spiritual soul, and the flattering flags can be seen everywhere. This trek is popular classic trek shall visit once for lifetime experiment.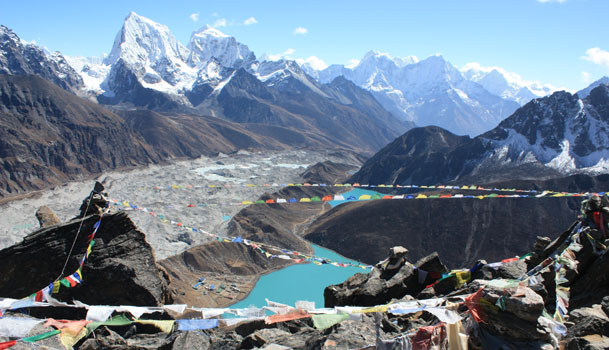 Trekking Itinerary
OutLine Itinerary
Day 01: Arrival day in Kathmandu (1,300m/4,264 ft)
Day 02: Kathmandu Valley sight-seeing
Day 03: Fly to Lukla & trek to Phakding (2,652m/8,700ft)
Day 04: Trek to Namche Bazaar (3,440m/11,283ft
Day 05: Rest / Explore day at Namche Bazaar(3,440/11,283 ft)
Day 06: Namche - Phortse Tanga-Dole (4200m/13775ft)
Day 07: Dole to Machhermo (4470m/14661ft)
Day 08: Machhermo to Gokyo (4790m/157111ft)
Day 09: Rest / Explore day at Gokyo (4790m/15711ft)
Day 10: Gokyo – Ri (5400m) – Thanknak (4650m/15252ft)
Day 11: Thaknak - Chola Pass (5350m/17548ft)-Dzongla (4830m/15842ft)
Day 12: Dzongla to Gorakshep (5180mm/16990 ft)
Day 13: Gorakshep to EBC (5316m/17136 ft) and Gorakshep (5180mm/16990 ft)
Day 14: Gorakshep – Kalapather (5545m/18187ft) - Dingboche: (4410m/14464ft)
Day 15: Dingboche toTengboche: (3860m/12660ft)
Day 16: Tengboche to Namche Bazaar (3440m/11283ft)
Day 17: Namche Bazaar-Lukla (2780m/9118ft)
Day 18: Lukla to Kathmandu
Day 19: Leisure at Kathmandu
Day 20:Departure from Kathmandu
Day to day Itinerary

Day 01: Arrive Kathmandu (1,300m/4,264 ft)
Namaste and welcome to the Himalayan country of Nepal. You will be meet at the airport and be transfered to your hotel for check-in. After time to get refreshed, you will be meet in the evening for a welcome dinner in one of the finest Nepalese restaurants which includes a cultural show. Then afterwards you will be briefed about your trip and brought back to the Hotel for your overnight stay.

Day 02: Kathmandu Valley sight-seeing
Today, after breakfast you will go on a guided sightseeing tour of the highlights of Kathmandu and the surrounding Valley. You will visit Swoyambhunath Stupa, also known as the Monkey Temple, with its fine views over Kathmandu valley. The temple has many interesting features as well as the great stupa with highest point to the Kathmandu valley.
After this you can join the devotees, pilgrims and wandering saddhus (holy men) at Pashupatinath. Pashupatinath is the most important Hindu temple in Nepal as well as being one of the most important Shiva temples on the subcontinent. It is situated on the banks of the holy Bagmati River where you may have a chance to see a cremation on the River bank.
Take time to walk around Bodhnath (Boudha) stupa, the largest in Nepal and one of the largest in the world. Boudha is also the centre of Tibetan culture in Nepal and a wonderfully vibrant, interesting community.
Day 03: Fly from Kathmandu to Lukla – trek to Phakding (2,652m/8,700ft)
Early in the morning your guide will come to pick you up at your hotel for the transfer to the domestic airport. You will fly from Kathmandu to Lukla where the trek starts. Initially the trail descends steadily along the banks of the Dudh Koshi River, passing Sherpa villages and Mani stones before reaching Phakding. This an easy day for first step to the Khumbu region exploring the village and river bank and overnight at Phakding.
Day 04: Phakding to Namche (3,440m/11,283ft)
  Approximately 5 hrs duration, this is a beautiful days walking through magnificent rhododendron, magnolia and fir forest. Several villages provide welcome teashops and the views of the peaks improve continuously until Namche is finally reached after a long ascent up a ridge. Namche is the main Sherpa village and the main gate of Khumbu region. We can rest here and enjoy an afternoon walking round the village.
Day 05: Rest / Explore day at Namche Bazaar(3,440/11,283 ft)
This is day for exploring the local market and can have lot of facilities such as internet, phone, club bar, bakery house and local shopping for tourists. You can also visit Everest view hotel above Namche from where you can see many high mountains, including the highest, Mt. Everest. If you have got the time, visit the hidden village of Khumjung with a Monastery (with a Yeti head!) and the Hillary school and back to Namche for overnight at the Hotel. This day also allows you to acclimatize to the altitude, necessary for the onward journey.
Day 06: Namche - Phortse Tanga-Dole (4200m/13775ft)
Start your trek to the gokyo region crossing through the chhorten with scenery of Mt. Everest and Lhotse, Ama Dablam, Khangtega, Kusum Kangaru, Tawache and more peaks around the area. You can see a 360 degree view of snow capped mountains from this route before reaching Kyanjuma. This is also one of the most popular places to see himalayan wildlife such as Musk deer, Pheasant (Danfe), blood pheasants and  himalayan goat etc. Ascend on the left side to Monga hill and continue down to Phortse Thanga and where we stop for lunch. After lunch, trek up to Dole and overnight at Hotel.  
Day 07: Dole to Machhermo (4470m/14661ft)
From Dole the trail climbs via Lhabarma at 4220m to Luza at 4360m. The path is steep in most places as it climbs through scrub to Lhabarma. The track continues to climb along the side of the valley high above the river, crossing sandy spurs to reach Machermo at 4410m. It was in Machermo in 1974 that one of the first Yeti sightings was reported in Khumbu. There are three hotels and good mountain views in Machhermo. You can visit the Himalayan rescue association and overnight at hotel here.
Day 08: Machhermo to Gokyo (4790m/157111ft)
Beyond Machhermo the trail climbs a ridge for an excellent view both down the valley to Kantega and up towards Cho-Oyu (8153m). Beyond the ridge the valley widens as the trail passes through Pangram at 4390m. We descend to the river bank before beginning the climb up to the terminal moraine of the Ngozumpa glacier. It is a steep climb on the moraine. Afterwards the trail levels out as it follows the valley past a second lake, known as Longponga at 4690m, and then finally up a boulder-strewn path to Gokyo at 4,790m, on edge of third lake where we will stay for the night.
Day 09: Rest / Explore day at Gokyo (4790m/15711ft)
After your breakfast in Gokyo, you have the chance to explore the fourth and fifth lakes higher in the mountains and enjoy the spectacular views. This is a great opportunity to see all of Mt. Everest and Cho-yu, lake views in the Himalayas and one of the biggest glaciers in the world named Na-jumpa glacier.
Day 10: Gokyo – Ri (5400m) – Thanknak (4650m/15252ft)
Early in the morning we will hike to Gokyo Ri for a sunrise view and breathtaking views of Mt. Everest and the Himalayan scenery (from here you can see 4 mountains higher than 8000m). This is an experience of a life time land will leave you with unforgettable memories.  It takes 1 more hour to return to Gokyo for breakfast. Afterwards, trek down to Thaknak, passing the lakes and crossing the glacier for an overnight stay at Thaknak.
Day 11: Thaknak - Chola Pass (5350m/17548ft)-Dzongla (4830m/15842ft)
After breakfast we continue to the Cho-La pass (Chhugyuma) at 5,420m. The pass is not difficult but it is steep and involves traversing a glacier on the eastern side. After crossing the Cho-la pass and we reach Dzongla and over night at an Hotel here. There are very basic dormitory rooms here with cozy dining and another opportunity to enjoy the mountain views.
Day 12: Dzongla to Gorakshep (5180mm/16990 ft)
Continue along the moraine of the glacier, with views of Kalapathar and Pumori, before reaching Lobuche at (4910m) for your evening stay. This is the last stop before the climb to the base camp the next day. It is important to take the time to rest and acclimatize for this unforgettable day. You can see the best view of Mt. Nuptse in front of you and Lobuche peak behind. Continue the trek to the Gorekshep, this trail gives a good view of Pumori and there are beautiful views of the Everest mountain group from Gorakshep and Kalapathar.
Day 13: Trek to EBC (5316m/17136 ft) and Gorakshep (5180mm/16990 ft)
After the breakfast at Gorekshep we ready for our adventure to the targeted destination and we continues our trek towards the Everest Base Camp and to the Khumbu Ice-fall, the path from here can be misleading, follow the lead Sherpa, every year the trail changes due to the movements of the glacier, the walk is quite strenuous due to the high altitude and thin air, the walk passes through over rocky dunes and moraine and streams, till you reach the base camp. Everest Base Camp is lively with commotion during the high expedition season. It takes 2-3 hrs to get to base camp and after a grand time here retrace the journey back to Gorekshep for the overnight at lodge.

ay 14: Gorakshep – Kalapather (5545m/18187ft) - Dingboche: (4410m/14464ft)
Early in the morning we hike to Kalapather and with views if Mt. Everest and many other mountains close by. This is a good view point for scenerary. We return to the hotel for breakfast. After breakfast we trek down to Dingboche, retracing our steps to Duglha, then straight up the hill from the bridge to reach an upper trail. Staying high above the valley floor, we pass the yak pasture at Dusa to a chorten at the head of the Imja valley. Dingboche is the only place in Khumbu where barley is grown.
Day 15: Dingboche toTengboche: (3860m/12660ft)
The trail from Dingboche descends the Imja Khola valley then crosses the Khumbu River. Following the trail downhill, it is easy to make a detour and visit the upper part of Pangboche and its gompa. Continue to Tengboche for the overnight stay. This offers more spectacular scenrery and a chance to visit the famous monastery with many lamas praying there after 3 pm.
Day 16: Tengboche to Namche Bazaar (3440m/11283ft)
The route steeply descends to Phunki Thangka through the pine and Rhododendron forest then ascends the ridge passing some small villages including Sanasa and kyanjuma. A  further 2 hours walk through pleasantly scenery path leads you to Namche Bazaar and overnight at Hotel.
Day 17: Namche Bazaar-Lukla (2780m/9118ft)
It's a long down hill walk to Phakding crossing many suspension bridges. After lunch in Phadking we trek up to Lukla village and stay overnight at an Hotel here. Later in the afternoon you have time to explore the local market and village and later enjoy a final dinner in the mountains.
Day 18: Lukla to Kathmandu
Early in the morning after a quick breakfast, we check in to the airport and fly back to Kathmandu enjoying the wonderful scenery on the way. When we reach Kathmandu you will be transferred to your Hotel for overnight stay.
Day 19: Leisure at Kathmandu
This is a full day at leisure to rest and relax, to explore the local area and perhaps do a bit of last minute shopping at the heart of Kathmandu valley. You also have the option of doing some sight-seeing including Bhaktapur and Patan. Afterwards, you will have an evening farewell dinner with your crew and overnight at Hotel.

Day 20: Departure from Kathmandu
Today is free or last minute shopping for souvenirs or gift to your family, friends or relatives for you until your departure flight/drive or to commence any extra trips or activities you may have booked with us. If departing, you'll be transferred to the International Airport for your departure flight to your onwards destination.
Note: The itinerary may flexible during the trek depending upon the clients requirements and fitness.
Extending your holiday
In Nepal, there are many choices and options if you'd like to extend your holiday before or after your main booking. Here are just a few suggestions of extensions available for this trip:
Travel to the Trans Himalayan country with its mysterious and spiritual land of Tibet
- Visit land of the thunder dragon known as Bhutan
- Take a memorable wildlife safari with Elephant back ride in the Chitwan National park
- White water River rafting in the Himalayan country of Nepal
- 1 hour amazing mountain flight closest to the Mt. Everest
- Visit Darjeeling/Sikkim tour to India.
- Extend your trek in different trekking areas
- Bungee Jumping, Paragliding, Mountain biking and many more. >>>

Service Includes
4 Night Delux twin sharing accommodation in Kathmandu in 4 star hotel
All local transportation by suitable vehicle(car, van, bus) in Kathmandu
Complementary welcome and farewell dinner in Kathmandu
A day Kathmandu sightseeing as per itinerary with tour guide, vehicle & entry fees
Kathmandu to Lukla to Kathmandu both flight  ticket
Meal on full board (breakfast, lunch, dinner, tea & coffee) basis during the Everest base camp
 trek
Accommodation on teahouse/lodge during the Everest Base Camp Trek
Everest base camp trek leader (English speaking, First Aid and eco trained), Sherpa helper(for each two member), all payments
Sagarmatha National park  entry fee & TIMS and all major permit and entry fee
Exclusive medical kit bag
All government and local taxes
Intl. flight ticket re-confirmation
Submit your tourist registration form to the require embassy/consulate
Service does not Includes
Visa fees, intl. airfare & departure taxes
Excess baggage charges
Lunch and dinner in city
Travel and rescue insurance for Annapurna base camp trek
Personal expenses e.g. phone calls, laundry, bar bills & extra porters
Tips for driver, guides and porters
Any extending trips
Services doesn't include in service inclusive column
Enjoy the adventure with our Himalayan guides and take good memories away with you from Nepal.