Service Categories
Clients References

Hi, we are Catherine and Adele from Australia. We have just completed the Annapurna Sanctu ary Trek. After arriving in Kathmandu without a guide, which can be some what stressful. Someone without a guide, which can be some what stressful. Someone
More>>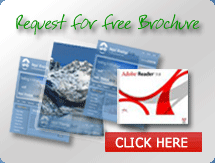 Quick Inquiry Form
Trip Highlights
| | |
| --- | --- |
| Trekking route  | : Hile to lapsang pass & Taplejung |
| Total Duration   | : 28 night's/29 days in total |
| Trek Duration | : 25 days |
| Grade | : Moderate to Adventurous |
| Max. Elevation | : 5900meters at top of the lapsang pass |
| Trekking style | : Camping trek |
| Meal | : Full board on trek |
| Accommodation | : Tented camp on trek |
| Transportation | : Tourist bus & private vehicle |
| Best Months  | : Sept - Nov & Mar - May |
Trip Introduction
The Kanchenjunga trek is a long trek in a remote area in the north east of Nepal near the border with Sikkim and Tibet. The trek is named after Mt Kanchenjunga (8586m) which is the third highest mountain in the world. The area is also abundant in wildlife including musk deer, blue sheep and for the believer, the Yeti. Habitation consists of only a few scattered villages. There are Magnificent views of Everest, Makalu and Mt. Kanchanjunga. The trek follows quiet trails through beautiful remote landscapes giving the opportunity to meet the local Sherpa, Limbu and Rai communities. The accommodation on this trek consists of very basic tea houses.

Special permits are required for the Kanchenjunga conservation area which lies below Mt. Kanchenjunga. The region with its alpine grasslands, rocky outcrops, low river valleys, and temperate and sub-tropical forests is situated in Taplejung district on the border with the Tibetan autonomous Region of China. KCAP has been selected as one of the 200 global eco regions recognized by world wild life fund. Flora and Fauna include 10 species of indigenous gymnosperms, 15 flowering plants, 30 varieties of rhododendron and 69 varieties of orchids and many species of wildlife including leopards, bear, red panda etc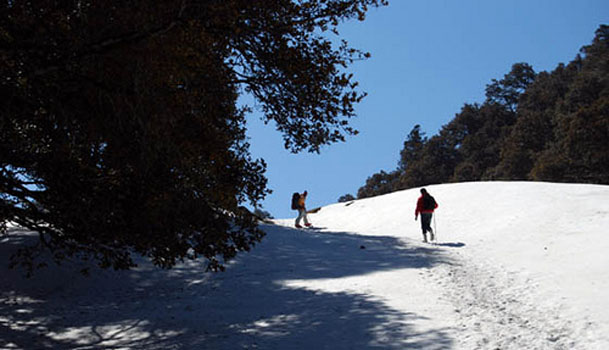 Trekking Itinerary
OutLine Itinerary
Day 01: Arrive Kathmandu (1,300m/4,264 ft)
Day 02: Kathmandu Valley sight-seeing
Day 03: Kathmandu to Hille (1850m/6068ft)
Day 04: Hille to Shidua (2020m/6625ft)
Day 05: Shidua to Door Pani: (2890m/9479ft) 
Day 06: Door Pani to Gupha Pokhara (3000m/9840ft) 
Day 07: Gupha Pokhara to Nesum (2600m/8528ft)   
Day 08: Nesum to Taplejung (1824m5982ft)
Day 09: Taplejung to Chirwa
Day 10: Chirwa to Sokathum
Day 11: Sokathum to Amjilasha
Day 12: Amjilassa to Kyapra
Day 13: Kyapra to Ghunsa
Day 14: Ghunsa to Khambachen
Day 15: Khambachen (Rest Day)
Day 16: Khambachen to Lhonak
Day 17: Day trip to Pangpema
Day 18: Khambachen to The Passes
Day 19: High Camp (Rest Day)
Day 20: High Camp to Ramche: (5425m)
Day 21: Ramche to Tseram
Day 22: Tseram to Torontan
Day 23: Torontan to Yamphudin: (1670m)
Day 24: Yamphudin to Ponphe Dhara
Day 25: Ponphe Dhara to Pha Khola
Day 26: Pha Khola to Taplejung
Day 27: Taplejung to Kathmandu
Day28: Leisure at Kathmandu
Day29: Departure from Kathmandu
Day to day Itinerary

Day 01: Arrive Kathmandu (1,300m/4,264 ft)
Namaste and welcome to the Himalayan country of Nepal. You will be meet at the airport and be transfered to your hotel for check-in. After time to get refreshed, you will be meet in the evening for a welcome dinner in one of the finest Nepalese restaurants which includes a cultural show. Then afterwards you will be briefed about your trip and brought back to the Hotel for your overnight stay.
Day 02: Kathmandu Valley sight-seeing
Today, after breakfast you will go on a guided sightseeing tour of the highlights of Kathmandu and the surrounding Valley. You will visit Swoyambhunath Stupa, also known as the Monkey Temple, with its fine views over Kathmandu valley. The temple has many interesting features as well as the great stupa with highest point to the Kathmandu valley.
After this you can join the devotees, pilgrims and wandering saddhus (holy men) at Pashupatinath. Pashupatinath is the most important Hindu temple in Nepal as well as being one of the most important Shiva temples on the subcontinent. It is situated on the banks of the holy Bagmati River where you may have a chance to see a cremation on the River bank.
Take time to walk around Bodhnath (Boudha) stupa, the largest in Nepal and one of the largest in the world. Boudha is also the centre of Tibetan culture in Nepal and a wonderfully vibrant, interesting community.
Explore the temples and courtyards of Patan, also known as the City of Fine Arts. In the evening we'll drive back to Kathmandu where we'll have a group briefing on what to expect when our trek begins tomorrow. The remainder of the evening is free for you to explore the surrounding area or simply relax at the hotel.
Day 03: Kathmandu to Hille (1850m/6068ft)       
Take a 45 min flight to Biratnagar, an industrial city in the lowlands of eastern Nepal, and drive to Hille (or drive all the way from Kathmandu to Hille) a Tibetan settlement at 1700m, where we stay overnight at the teahouse/camp.
Day 04: Hille to Shidua (2020m/6625ft)
Trek along a ridge to Buranse Danda towards the Tamur River. At the top of this ridge we arrive at Shidua where we stay for the night.
Day 05: Shidua to Door Pani: (2890m/9479ft)       
Trek through a forest to Chitre where you can see wildlife along the way. The views of Mt. Makalu and Chamlang are the main highlights of the trek. We continue through rhododendron forests to the hamlet of Door Pani for an overnight stay.
Day 06: Door Pani to Gupha Pokhara (3000m/9840ft)    
A gentle climb through more rhododendron forests leads to a mountain ridge then descend to the village of Tongise Phedi. Continue to Chanki, an area used for summer pasture. After this we can see the Kanchenjunga range which appears as we reach the Mongol Bharai pass lined with Mani stones. We descend to Lake Gupa Pokhari for our overnight stay.
Day 07: Gupha Pokhara to Nesum (2600m/8528ft)
Cross a pass at 9922ft and descend through dense forest towards Gurja Gaon, then continue to descend to the village of Nesum with views of Mt. Jannu and Mt. Kanchenjunga behind you. We stay overnight in Nesum.
Day 08: Nesum to Taplejung (1824m5982ft)
Descend to Doban through paddy fields and start the trek up the Tamur River to Taplejung.
Day 09: Taplejung to Chirwa
We Continue to trek up the Tamur River which lies in a valley populated by the Limbu people, the descendants of the Kirati warriors who ruled Nepal at the dawn of Nepalese history. We stay overnight near Chirwa, a pleasant bazaar with a few tea houses and shops.
Day 10: Chirwa to Sokathum
Continue up the Tamur past Tapethok and cross the Simbuwa khola, a river formed by the Yalung Glacier. Climb over another ridge to join the Ghunsa khola valley where we stay overnight by the banks of the river at Sokathum.
Day 11: Sokathum to Amjilasha
Follow a steep and narrow trail up-river. From the high points there are wonderful views of the Ghunsa Khola below. The path descends steeply and arrives at the mountain-side village of Amjilasha for an overnight stay.
Day 12: Amjilassa to Kyapra
Follow a steep climb to Kyapar, which is situated in the middle of terraced hills about 1000ft above the Ghunsa River.
Day 13: Kyapra to Ghunsa
Descend from Kyapra and climb gradually up the right bank of the Ghunsa River. After the village of Phere we pass through rhododendron forests and climb a gentle hill before descending once more to the Ghunsa River. we then cross a wooden bridge to the village of Ghunsa where we stay overnight.
Day 14: Ghunsa to Khambachen
From here we can catch a glimpse of the Jannu Glacier. Further along the trail we can also see Mt. Jannu before descending the mountain-side for our overnight stay at Khambachan.
Day 15: Khambachen (Rest Day)
Having climbed for the last 4 days we take a well deserved rest day where you will have time to explore the surroundings.
Day 16: Khambachen to Lhonak
Today we have a difficult climb,  trekking to the edge of Kanchenjunga glacier and crossing over to the Lhonak glacier before arriving at our campsite/ teahouse at Lhonak. From there it is possible to see Mera peak.
Day 17: Day trip to Pangpema
Today we take time to trek to Pangpema to see the excellent views of the towering peak of Kanchenjunga.
Day 18: Khambachen to The Passes
We can decide to cross either of the 2 passes today depending on the weather conditions: Lapsang La, the higher pass, or Mirgin La, the lower pass.
Day 19: High Camp (Rest Day)
Day 20: High Camp to Ramche: (5425m)
We descend to the Simbuwa valley and for an overnight stay at Ramche.
Day 21: Ramche to Tseram
Today we take a day trip to the Yalung glacier for a magnificent view of the Kanchenjunga south face from a chorten. Later we descend to Tseram for the night.
Day 22: Tseram to Torontan
Descend steadily through forests of rhododendron to Torontan.
Day 23: Torontan to Yamphudin: (1670m)
Descend to Yamphudin, a hamlet with a mixed community of Sherpas, Limbus, Rais and Gurungs. This is the first real ethnic village after Ghunsa.
Day 24: Yamphudin to Ponphe Dhara
Descend from Yamphudin to the Kabel River and climb to Ponphe for the overnight stay.
Day 25: Ponphe Dhara to Pha Khola
From Ponphe climb to a ridge then descend through a series of side valleys past Phudin village to Kesawa. The trail continues to ascend to the Gurung settlement at Bhanjyang. From here the it traverses a ridge and descends to the Limbu village of Khunjari, where we stay for the night on the banks of Pha Khola.
Day 26: Pha Khola to Taplejung
Descend to the airport for a flight to Taplejung or an overnight stay.
Day 27: Taplejung to Kathmandu
Fly to Kathmandu via Biratnagar or take a direct flight from Taplejung to Kathmandu.
Day28: Leisure at Kathmandu
This is a full day at leisure to rest and relax, to explore the local area and perhaps do a bit of last minute shopping at the heart of Kathmandu valley. You also have the option of doing some sight-seeing including Bhaktapur and Patan. Afterwards, you will have an evening farewell dinner with your crew and overnight at Hotel.

Day29: Departure from Kathmandu
Today is free or last minute shopping for souvenirs or gift to your family, friends or relatives for you until your departure flight/drive or to commence any extra trips or activities you may have booked with us. If departing, you'll be transferred to the International Airport for your departure flight to your onwards destination.

Note: The itinerary may flexible during the trek depending upon the clients requirements and fitness.
Extending your holiday
In Nepal, there are many choices and options if you'd like to extend your holiday before or after your main booking. Here are just a few suggestions of extensions available for this trip:
- Travel to the Trans Himalayan country with its mysterious and spiritual land of Tibet
- Visit land of the thunder dragon known as Bhutan
- Take a memorable wildlife safari with Elephant back ride in the Chitwan National park
- White water River rafting in the Himalayan country of Nepal
- 1 hour amazing mountain flight closest to the Mt. Everest
- Visit Darjeeling/Sikkim tour to India.
- Extend your trek in different trekking areas
- Bungee Jumping, Paragliding, Mountain biking and many more. >>>

Service Includes:
4 Night Delux twin sharing accommodation in Kathmandu in 4 star hotel
All local transportation by suitable vehicle(car, van, bus) in Kathmandu
Complementary welcome and farewell dinner in Kathmandu
A day Kathmandu sightseeing as per itinerary with tour guide, vehicle & entry fees
Kathmandu to hille and taplejung  to kathmandu by regural local bus (option private transportation/Flight.)
Meal on full board (breakfast, lunch, dinner, tea & coffee) basis during the kanchenjunga trek as per itinerary
Twin sharing accommodation on tented camp during the kanchenjunga trek
kanchenjunga trek leader (English speaking, First Aid and eco trained), Sherpa porters & all payments with insurance
kanchenjunga Conservation entry fee & kanchenjunga special permit and TIMS Permit
Exclusive medical kit bag
Safe drinking water
Sleeping bag and downjacket
All government and local taxes
Intl. flight ticket re-confirmation
Submit your tourist registration form to the require embassy/consulate
Service does not Includes:
Visa fees, intl. airfare & departure taxes
Excess baggage charges
Lunch and dinner in city
Travel and rescue insurance during the Manaslu trip
Any extending trips
Personal expenses e.g. phone calls, laundry, bar bills & extra porters
Tips for driver, guides and porters
Anything does not includes in service inclusive column
Enjoy the adventure with our Himalayan guides and take good memories away with you from Nepal.