Service Categories
Clients References

Hi, we are Catherine and Adele from Australia. We have just completed the Annapurna Sanctu ary Trek. After arriving in Kathmandu without a guide, which can be some what stressful. Someone without a guide, which can be some what stressful. Someone
More>>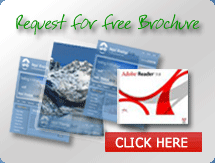 Quick Inquiry Form
Upper Mustang/ Lo manthang trek
Trip Highlights
| | |
| --- | --- |
| Trekking route  | : Pokhara to jomsom by flight & trek to lo-manthang back to jomsom |
| Total Duration   | : 17 night's/18days in total |
| Trek Duration | : 12 days |
| Grade | : Leisurely to Moderate |
| Max. Elevation | : 3800 meters at Muktinath |
| Trekking style | : Camping |
| Meal | : Full board on trek |
| Accommodation | : Tented camp |
| Transportation | : Tourist bus, Flight & private vehicle |
| Best Months  | : Sept - Nov & Mar - May |
Trip Introduction
Upper Mustang trek is one of the historical and remote areas trekking in Nepal. Which is lies in Trans Himalayan district of Western region of Nepal. This is remote trek with adjoining plateau of Tibet, where you can find the real Himalayan cultures domain by the Tibetan society. During your trek may explores the ancient Monastery, more than thousand years of hundreds ruined cave and Himalayan mountain desert with local tribes domain with Tibetan society are the main attraction of this areas. This region is located on the western Himalayan range and adjoining with Tibetan border of the Nepal. Mustang is a rain shadow area and still has a Mustangi Raja (state king of the Mustang) only one state king of Nepal.
The trip starts from the beautiful Lake Town of Pokhara and crossing the Annapurna conservation area to get to Upper Mustang entry border. Either fly to Jomsom or walk from the Beni will reach at entry point of Mustang called Kagbeni. We start our trek through the Holy river bank of Kaligandaki and follow the up stream to get to Lo-Mangthang, which is capital of the Mustang. On this trek you may have chance to explore the thousand years of old monastery, caves, local tribes and scenic beauties of the different landscapes. You'll have a great chance to accomplish the blessing from the King and the royal palace during the visit. The trek to Lo-Manthang is through an almost tree-less barren landscape, a steep rocky trail up and down hill and panoramic views of Nilgiri, Annapurna, Dhaulagiri and several other peaks make your remarkable adventure holiday.
The Home Ministry of Nepal announced the opening of the restricted areas in October 1991. There is also strict control in obtaining a special permit from the Department of Immigration to protect their tradition from outside influence as well as to protect their environment. The high desert region of the Tibetan influence, Kaligandaki, from the Tibetan border south to Kagbeni is generally referred to as "Upper Mustang" that has its own nominal king.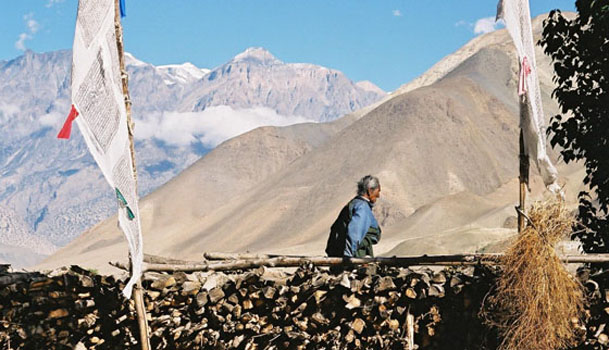 Trekking Itinerary
Outline Itinerary
Day 01: Arrival day in Kathmandu (1,300m/4,264 ft)
Day 02: A Guided sightseeing in Kathmandu Valley
Day 03: Drive from Kathmandu to Pokhara valley (823m/2,700ft)
Day 04: Fly from Pokhara to Jomsom to Kagbeni (2,858m/9,375ft)
Day 05: Kagbeni to chele (3050m/10,004ft)
Day 06: Chele to Syanbochen (3475m/11,398ft)
Day 07: Syanbochen to Ghaymi (3520m/11,546ft)
Day 08: Ghaymi to Charang (3500m/11,480ft)
Day 09: Charang to Lo-Mangthang (3700m/12,136ft)
Day 10: Explore the Lo-Mangthang
Day 11: Lo-Mangthang to Ghar Gumpa
Day 12: Ghar Gumpa to Ghiling (3806m/12,484ft)
Day 13: Ghiling to Chele (3050m/10,004ft)
Day 14: Chele to Jomsom (2700/8,856ft)
Day 15: Fly from Jomsom to Pokhara
Day 16: Drive back to Kathmandu. 200 k.m. 5-6 hrs Bus Journey
Day 17: Leisure at Kathmandu
Day 18: Departure from Kathmandu
Day to day Itinerary

Day 01: Arrival day in Kathmandu (1,300m/4,264 ft)
Namaste & welcome to Himalayan Planet of Nepal. While you landed at the Tribhuvan intl. airport Nepal Himalaya Guide representative welcomes you with your name and assists to transfer in your hotel in Kathmandu. After time to get refreshed, bring you at head office and briefing about the program and evening we'll pick up you for welcome dinner in one of the typical Nepalese restaurant with cultural program in the heart of Kathmandu and overnight at Hotel.
Day 02: A Guided sightseeing in Kathmandu Valley
After your breakfast to head on for our guided day trip to world heritage sites in Kathmandu valley and visit the highlights of Kathmandu and the surrounding areas. We take you to visit the pilgrimage sites of Hindus temple Pashupatinath, one of the most important shrine of Shiva temples on the subcontinent which is place of thousand of devotees, Saddhus (holy men/Baba), and can be seen the cremating body most of the times in the holy riverbank of Bagmati. Hundreds of monkeys are giggling with you and take a time to exploring surrounding area and visit Bouddhanath stupa an another pilgrimage centre which is most popular and important place for Buddhist. You can explore with rounding prayer wheel and flattering colorful flag with melodious chanting noise. After visiting Bouddhanath stupa we'll drive to the City of Devotees (Bhaktapur). This traditional and traffic free town is the third biggest town in the Valley. We'll explore the medieval like squares, courtyards and temples of this vibrant town. After a stop for lunch at restaurant in Bhaktapur it's time to drive back to Kathmandu and meet up with your travel consultant & fellows to prepare for next day and overnight at the hotel. Alternatively, the same group may have option to choose same 3 sightseeing place inside Kathmandu valley instead of these given place.

Day 03: Drive from Kathmandu to Pokhara valley (823m/2,700ft)
This morning after breakfast we'll start our journeys with drive through the beautiful river view & Nepalese countryside to reach at Lake town of Pokhara by luxury tourist bus. It takes 7 hrs drives and after reach at Pokhara and transfer to the hotel and rest of the time explores the surrounding lakeside areas and overnight at hotel with briefing by your trek leader.

Day 04: Fly from Pokhara to Jomsom to Kagbeni (2,858m/9,375ft)
We do have regular early flight to Jomsom and as day time can't fly with strong wind. After an early breakfast transfer to the airport for a morning flight to Jomsom, a super scenic flight of 20 minutes brings you at Jomsom, the district headquarter of Mustang. This is a large town and headquarters of the Mustang region, it is also a major village on the Kaligandaki area linking the age old Trans-Himalayan Salt Trade route to Tibet. From Jomsom onwards it is very windy in the afternoon, From Jomsom trek continues on the gradual path on the Kali Gandaki river bed for about 3 hrs and finally reaching at Ekley-bhatti village. After good stop here an hour of easy walk reaches you to Kagbeni, which lies at the bank of two rivers. Kagbeni, an interesting wind swept villages situated on the main age old Trans Himalayan salt trade route to Tibet via Upper Mustang area. On arrival, check in the tented camp with afternoon free for a stroll around the village.

Day 05: Kagbeni to chele (3050m/10,004ft)
We start our Trans Himalayan journeys with a special permit check up and onwards to the riverbank of Kaligandaki up stream. During the walk we have scenic picturesque place to stop through the sandy and windy trails. This trails follows the up and downhill. Firstly we'll reach at Tangbe village with crops field. From here we trek forward to Chhusang after ½ hour walk and crossing the river head up to the huge red chunk of conglomerate that has fallen from the cliff above, forming a tunnel through which the Kaligandaki follows. We head on to small ridges reach at Chele village after 18 kilometers with 6 hrs walk for the overnight at tented camp.

Day 06: Chele to Syanbochen (3475m/11,398ft)
As continuing start our trek again and walk further to Eklo Bhatti. We'll climbs to Taklam La Pass (3,624m/11,923 ft) through plateaus and narrow stretches with views of Tilicho Peak, Yakawa Kang, Nilgiri and Damodar Danda. Further descends a little to the village of Samar for our lunch. Further walk around 3 hrs similar walk will reach you at Syanbochen after 8 kilometers with 7 hrs walk for the overnight at camp.

Day 07: Syanbochen to Ghaymi (3520m/11,546ft)
After breakfast at camp we trek uphill to the Yamda La (3,850m /12,667ft) passing few teahouses, chorten and local villages which is like Tibetan style of houses with open Varanda, and crosses over a few other passes. The longer climb will be to Nyi Pass (4,010m/13,193ft) after lunch, we descend to our overnight stop at Ghaymi after 12 kilometers with 6 hrs walk and overnight at tented camp.

Day 08: Ghaymi to Charang (3500m/11,480ft)
Start our trek after breakfast with a pleasant walk and easily get to the Charang for the overnight. After crossing Ghaymi Khola, the trail climbs to a plateau and passes beside a very long Mani wall (Secret stone wall of the Buddhism). From the end of the wall the trail heads east to Tsarang after 11 kilometers with 5 hrs walk up and down to get to our camp for tonight stop.

Day 09: Charang to Lo-Mangthang (3700m/12,136ft)
Today, we trek to Lo-Mangthang with a magnificent view of Nilgiri, Tilicho, Annapurna I and Bhrikuti peak. The trail first descends to Tsarang Chu Canyon and then climbs steeply after crossing the river. Further the trail ascends gently to the 3,850m windy pass of Lo, from where you can see the Lo-Mangthang Valley. While descending to Lo-Mangthang, views of the walled city appear magnificent with its hills on the Tibetan Border. We walk 6 hrs and stay at camp for the overnight stop. Rest of the time explores the surrounding area.

Day 10: Explore the Lo-Mangthang
You may have many choices to explore in Lo- mangthang and the surrounding areas. Visit Namgyal Gompa and Tingkhar. Namgyal Gompa situates on a hilltop, which serves as an important monastery of the local community and also as a local court. After visiting Namgyal Gompa continue the tour to Tingkhar, which is a village of around 40 houses, the last main village to the northwest of Lo-Mangthang and stroll back to hotel. Or you may have another option to visit the Tall Champa Lakhang "God house" the red Thugchen Gompa, Chyodi Gompa and the Entrance Hal which are the main attraction of this town. Another attraction is the four- story building of the Raja's palace as well as the surrounding panoramic views of the Himalaya. The interesting place where you may not tired to explore more and more. There are many places to explore and manage your time to explore the places. Every monastery requires the donations and entry fees which is made by your own.

Day 11: Lo-Mangthang to Ghar Gumpa
After a wonderful time at Lo-Mangthang we return back to Ghar Gumpa which is also interesting place to explore the local area takes 4-5 hrs. During the walk you'll suffer the dusty wind and as suggested to walk in the morning and afternoon it's too windy on your faces. We stop for the overnight at camp.

Day 12: Ghar Gumpa to Ghiling (3806m/12,484ft)
Today, we will back to Ghiling as our journey for our overnight stay after a long walk takes 5-6 hrs. After arrival and lunch enjoy the day explore the area but it will be dusty better to walk in evening time.

Day 13: Ghiling to Chele (3050m/10,004ft)
We re-track back to Ghiling for the overnight stop after 5 hrs walk. You will have wonderful scenery during the journey with a Himalayan view. Enjoy your trip and overnight at camp.

Day 14: Chele to Jomsom (2700/8,856ft)
Today, we will have a last day trek as well as long. It is better to walk early start as before and trek to Kagbeni finished the upper Mustang trails and join to the normal route as Annapurna circuit trek. After lunch at Kagbeni will head on to Jomsom for the overnight stop at camp and farewell dinner with all crew member and contribute the tips on the evening and overnight at camp.

Day 15: Fly from Jomsom to Pokhara
This wonderful morning, early breakfast made by our camp chef and after we pack all our gears and check in the airport to fly back to Pokhara. This is a dramatic flight between gorge of the two huge mountains Annapurna and Dhaulagiri of120km air distance. On arrival at Pokhara airport you'll be transferred to your hotel and reminder is leisure and free at Lake Town of Pokhara city.

Day 16: Drive back to Kathmandu. 200 k.m. 5-6 hrs Bus Journey
Today, in the morning you will drive back to Kathmandu with river views of Marsyangdi and Trisuli River. The drive passes through numerous towns and farm villages with great scenery of the farm fields, terrace landscapes. Reaching Kathmandu , you will return to the hotel and have the evening to explore the surrounding areas or to relax in the Hotel.

Day 17: Leisure at Kathmandu
This pleasant day you may have full day at leisure at your own or can be extends your extra trip with us on additional cost or time to explore the Thamel for last day shopping and evening company will meet you for the farewell dinner and overnight at hotel.

Day 18: Departure from Kathmandu
Today is free or last minute shopping for souvenirs or gift to your family, friends or relatives for you until your departure flight/drive or to commence any extra trips or activities you may have booked with us. If departing, you'll be transferred to the International Airport for your departure flight to your onwards destination.

Note: The itinerary may flexible during the trek depending upon the clients requirements and fitness.
Extending your holiday
In Nepal, there are many choices and options if you'd like to extend your holiday before or after your main booking. Here are just a few suggestions of extensions available for this trip:
- Travel to the Trans Himalayan country with its mysterious and spiritual land of Tibet
- Visit land of the thunder dragon known as Bhutan
- Take a memorable wildlife safari with Elephant back ride in the Chitwan National park
- White water River rafting in the Himalayan country of Nepal
- 1 hour amazing mountain flight closest to the Mt. Everest
- Visit Darjeeling/Sikkim tour to India.
- Extend your trek in different trekking areas
- Bungee Jumping, Paragliding, Mountain biking and many more. >>>

Service Includes
4 Night Delux twin sharing accommodation in Kathmandu in 4 star hotel and 2 night's standard twin sharing accommodation in 3 star hotel at Pokhara
All local transportation by suitable vehicle(car, van, bus) in Kathmandu & Pokhara
Complementary welcome and farewell dinner in Kathmandu
A day Kathmandu sightseeing as per itinerary with tour guide, vehicle & entry fees
Kathmandu to Pokhara to Kathmandu by regular tourist bus (Optional private vehicle)
Pokhara to Jomsom to pokhara by flight
Meals on full board (breakfast, lunch, dinner, tea & coffee) basis during the trek as per itinerary
Twin sharing accommodation on tented camp during the trek
Trek leader (English speaking, First Aid and eco trained), Sherpa porters/animal carry and one assistant guide (for each two member) all payments with insurance
Upper Mustang & Annapurna conservation entry fee with TIMS Permit
Exclusive medical kit bag
Sleeping bag & down jacket
Safe drinking water
All government and local taxes
Intl. flight ticket re-confirmation
Submit your tourist registration form to the require embassy/consulate
Service does not Includes
Enjoy the adventure with our Himalayan guides and take good memories away with you from Nepal.