Service Categories
Clients References

Hi, we are Catherine and Adele from Australia. We have just completed the Annapurna Sanctu ary Trek. After arriving in Kathmandu without a guide, which can be some what stressful. Someone without a guide, which can be some what stressful. Someone
More>>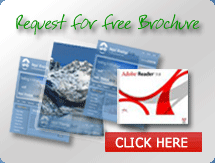 Quick Inquiry Form
Trip Highlights
| | |
| --- | --- |
| Trek & Climbing route  | : Lukla to Kyajo-ri peak summit & lukla |
| Total Duration   | : 22 night's/23 days in total |
| Trek & Climbing Duration | : 19 days |
| Grade | : Technical Climbing |
| Max. Elevation | : 20290 feet at top of the Kyajo-ji Peak |
| Trekking style | : Tea house & Camping |
| Meal | : Full board on trek break fast in city |
| Accommodation | : lodge on trek & tented camp on expedition |
| Transportation | : Flight & private vehicle |
| Best Months  | : Sept - Nov & Mar - May |
Trip Introduction
Nepal is a home to eight of the world's ten highest mountains; Nepal Himalayas has been the focus of outstanding achievements in the world of peak climbing expeditions with its identified one thousand three hundred ten peaks above 6,000 meters peak. In the Khumbu Himal, the north of Namche Bazaar is a long line of small rocky peaks continuing all the way to Cho Oyu on the Nepalese-Tibetan border. From the Thamo village to the north 6,186 meter (20,290 feet) high Kyajo Ri is the highest summit on the southern part of this ridge. Kyajo Ri peak is an outstanding climbing peak among the trekking peaks of Nepal Himalaya.
The Kyajo Ri peak was officially opened to climbing by the Nepalese Ministry of Tourism in 2002 and listed on group 'A' climbing peak by Nepal Mountaineering Association. The first ascent was made that year by a British team. There are few routes to climb the Kyajo Ri peak as from Machharmo side & from the Mende side. We followed the more difficult route as southeast ridge only the second route for the summit. In terms why would you like to climb this peak? Because………….
At almost 6200 meters, it is high, but not too high. Higher peaks take more time for acclimatization and lower peaks are simply dwarfed by the giants all around.
It is a beautiful mountain, with a sharp defined summit, and is the highest peak in its immediate vicinity.
The route actually ends on the highest magnificent pointed summit, unlike Lobuche East, or Island Peak (at least as they are commonly climbed, stopping on lower fore-summits, shy of the penultimate point).
Situated in the middle of the Khumbu, it is surrounded by impressive summits and has fantastic views, including lots of 8000ers.
It is not crowded, at least not yet!
It is technical without being extreme.
The route is free of fixed rope and anchors, retaining its pristine, wild condition.
It lacks unacceptable levels of objective hazard.
The route faces south, towards the sun and warmth.
It has a beautiful, comfortable and quiet base camp, located in a wonderful isolated valley.
It is classified as a "Trekking Peak" which permits a less expensive, less complicated expedition.
Difficulty
Kyajo ri Expedition is a difficult expedition among the listed trekking peaks by Nepal mountaineers Association. There is significant technical climbing at high altitude. Summit day is very long and tiring. The approach trek to base Camp is not overly difficult and is suitable for experienced off-trail hikers in good condition. In difficulty it is probably comparable to the Cho La route, or to treks that cross the Renjo La, and perhaps a bit harder than the Kala Patar trek near Everest Base Camp.
Base Camp to Camp 1 is a long way and a hard day over rough, but non-technical terrain. Camp 2 is not so far from Camp 1 but the intervening climbing is occasionally over difficult talus and giant boulders
From Camp 2 we are able to move together a short way, then soon begin belayed climbing. We climb about 12 pitches of steep snow and ice, to perhaps 60° in steepness for one or two pitches just below the summit. We will belay, lower and rappel the same route on descent. Overall, the difficulty is comparable to the summit day on Ama Dablam. Kyajo Ri is significantly harder physically and technically than Lobuche East or Island Peak.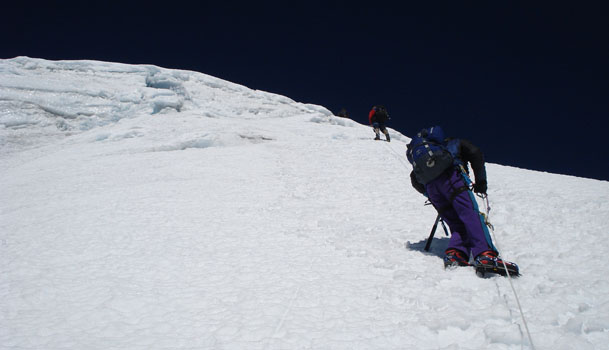 Trekking Itinerary
OutLine Itinerary
Day 01: Arrival day in Kathmandu (1,300m/4,264 ft)
Day 02: Rock Climbing Course in Kathmandu
Day 03: Fly to Lukla & trek to Phakding (2,652m/8,700ft)
Day 04: Trek to Namche Bazaar (3,440m/11,283ft)
Day 05: Acclimatization day at Namche Bazaar
Day 06: Trek to Khumjung village (3,790m/12,431ft)
Day 07: Trek to Thame village (3,800 m/12,464ft)
Day 08: Trek to Kyajo Kharka (3,900m/12,792ft)
Day 09: Trek to Kyajo Ri base camp
Day 10: Rest day at base camp
Day 11: Trek to high camp
Day 12: Trek to Camp 1
Day 13: Fixed the ropes and trek to Col & return to camp 1
Day 14: Trek to Col
Day 15: Summit day and back to camp 1
Day 16: A reserve day for conditional situation
Day 17: Trek back to base camp
Day 18: Trek to Namche
Day 19: Trek to Phakding
Day 20: Trek to Lukla
Day 21: Fly back to Kathmandu
Day 22: Leisure at Kathmandu
Day23: Departure from Kathmandu
Day to day Itinerary

Day 01: Arrival day in Kathmandu (1,300m/4,264 ft)
Namaste & welcome to Himalayan Planet of Nepal. While you landed at the Tribhuvan intl. airport Nepal Himalaya Guide representative welcomes you with your name and assists to transfer in your hotel in Kathmandu. After time to get refreshed, bring you at head office and briefing about the program and evening we'll pick up you for welcome dinner in one of the typical Nepalese restaurant with cultural program in the heart of Kathmandu and overnight at Hotel.

Day 02: Rock Climbing Course in Kathmandu
You will be taken to 3 Km drive to the place called Balaju, a natural rock climbing spot for your climbing course before departure to Lukla, a day course will provide excellent opportunities to learn how to use rope, harness, Ice axe, crampons although keeps you physical fitness. Alternatively you can take a world heritage sightseeing for 3 places as desired inside Kathmandu valley. After return we'll brief about trip and group meeting at office and back to hotel for overnight in Kathmandu.

Day 03: Fly to Lukla & trek to Phakding (2,652m/8,700ft)
Early morning you'll be transferred to domestic airport to fly to Lukla (2,800m/9,186ft). It takes 35 minutes scenic flight to Lukla airport (2,800m/9,184ft) and you will have tea break, while the guide sort out and divide the load baggage to be carried by porters. Guide will manage the lunch place depending upon the time of arrival at Lukla. The trek starts with most scenic view of Numbur Himal & Phari.  We further on to Phakding passing some Sherpa farm villages. We follow the trail to Dudhkoshi River with gradual with few ups from Thado Koshi, where you can have a lunch with superb view of Kusum-Kangaru (6,369m/20,890ft) crossing a short suspension bridge, from here after a short climb brings us to the Ghat village, another 1 ½ hr of gradual walk brings you to Phakding village for the overnight stop at lodge after 3-4 hrs walk and reminder stroll around the village for local knowledge.

Day 04: Trek to Namche Bazaar (3,440m/11,283ft)
The trek start in the morning and after crossing the suspension bridge over the Dudh-Kosi the walk is pleasant with few short uphill and downhill and re-crossing the same river again with magnificent view of Mt. Thamserku (6,608m/21,675ft) from the Benkar village. Trek continuing crossing the bridges and   reaches at Monjo where is entrance gate of the Sagarmatha National Park, where your trekking permit checked and keeps the record of all trekkers going to and from this place including the local trekking staff as well.
When enter the National park boundary we descend and a gradual walk brings us to the suspension bridge over the Bhote-Koshi river, after the bridge Jorsalle village is reached, the last village till Namche Bazaar,  from here the walk is pleasant on the river bed till the last bridge over the Imjatse river is reached, from here the walk is along the winding uphill path all the way to Namche Bazaar, with magnificent view of Kwangde peak and it other sister peaks towards east with Kusum kangaru on the back as you climb higher, view of Mt. Everest, Lhotse and the closer view of Tawache peak can be seen from some part on the way to Namche. Finally we reach at colorful houses called Namche Bazzar main gate of Khumbu region after 5-6 hrs walk and we overnight stay at Lodge.

Day 05: Acclimatization day at Namche Bazaar
You may  have full day leisure today for the acclimatization or stroll around the market, if Saturday can be seen many people in Saturday market for shopping to fulfill their daily needs and only one shopping market in the surrounding areas. Also you can visit Sherpa Museum as well a great place to learn Sherpa culture and history of mountaineering or visit up to the luxury Everest view hotel & Syangboche airstrip and stroll back to camp for overnight.

Day 06: Trek to Khumjung village (3,790m/12,431ft)
After good day at Namche, today our walk follows on the gradual trail about couple of hours with most scenic trails and after Sanasa a short uphill overlooking magnificent view of the great giant snow peaks from Everest, Nuptse, Lhotse, Ama Dablam, Thamserku and Kwangde peak after a pleasant walk through the rhododendron forest and climb to Khumjung village for the overnight at Khumjung after 3-4 hrs walk. You'll have time to explore the surrounding area as visit Hillary school and Monastery with Yeti scalps and enjoy with Sherpa people and share your feelings and back to camp for overnight.

Day 07: Trek to Thame village (3,800 m/12,464ft)
Today, we'll head toward the western part of Khumbu called Thame village and after an hour walk to Khunde Hospital running by Sir Edmund Hillary of Canadian foundation, which is the biggest hospital in surrounding areas and climb a hill then descend to Syangboche airstrip and walk to Thamo village for the lunch and further on walk up to Thame Village as well during the trek can be seen most scenic view of Surrounding mountain and Himalayan wildlife. Thame valley is most popular for mountain climbers and monastery itself. After check in we can visit the monastery and surrounding valley and overnight at teahouse. It takes 4-5 hrs to reach at Thame valley.

Day 08: Trek to Kyajo Kharka (3,900m/12,792ft)
After Thame village easy walk descend to River and after crossing the suspension bridge we head eastern route up to Mende village where we can meet our camping crews and can have lunch at Mende village which is settle on small plateau on the mountain with some farm houses, Monastery and stabilized one Luxury lodge. After a good lunch walk an hour further to left side gentle uphill to Kyajo Kharka, which is small Yak herders place where we can set up our camp for overnight. You can see the best view of Mt. Thamserku, Khumbila, Kusum Kangaru, Kwangde, Pachharmo and surrounding Himalayan ranges.

Day 09: Trek to Kyajo Ri base camp
Today, after good breakfast at camp we start our journey to base camp of Kyajo Ri. We climb left part with off the beaten trail with small Juniper bushes. It's harder to climb but the scenic view can forget to steep uphill to climb. When we reaches at first top we still have to climb another hill and descending to bottom of Kyajo base camp, where from the further walk an hour to get to base camp after 5-6 hrs walk and overnight at tented camp. Kyajo Ri base camp is set up between the rocky mountain with flat ground in a side of small river but the sunshine from 9 am to 2 pm only besides this time feels more colder anyway. This is one of the Summer Yak pasture and big Kharka which is nice place to set up camp.

Day 10: Rest day at base camp
Today, we have acclimatization day at base camp and afternoon briefing by your expedition Guide about how to fixed the ropes, some climbing technique, about the knot and gears. If you have any question may have chance to ask and reminder is free at camp.

Day 11: Trek to high camp
This morning after breakfast we pack up all the gears and start to climb high camp. All our Sherpa asst. will help to transfer equipments. After half an hour walk the trails follows the upward rocky section with lot of borders and skid pebbles. It's definitely shortest day but the hardest part of the trek path. Anyway, after 3 hours steep walk then get to the high camp for the overnight at the camp. After attempt the high camp top can be seen the view of Kyajo Ri and 2 small glacier pond but we camp near the bank.

Day 12: Trek to Camp 1
As continuing we start today for the camp 1, where we walk though the Glacier section and crossing via Glacier lakes but no need to wear crampon. Camp 1 has sufficient place to camp for the group and it's near of the Glacier. From hear can be seen the next day route as well Climbing route too. We are following the south East Ridge for this climbing. We pitch our camp near big glacier lake and overnight at camp.

Day 13: Fixed the ropes and trek to Col & return to camp 1
This day for acclimatization with explore the situation of Col we need to cross the Glacier and needed to fixing the ropes to get their. It takes approx. 2 hrs to pass the Glacier and the climbing leader will fix the ropes and may explore to set up the camp at Col. If the ice can be easy to set of camp unless over the Ice it's too hard to set up camp. If the Col is Isolated it's better to try to get the summit from the camp 1, unless it's hard to set up camp on Col. After explore the Col return at camp 1 for the overnight.

Day 14: Trek to Col
Today, another hardest day and we head up to Col for the camp overnight crossing through the glacier & big bolder. It's hard day except climbing part and when we crossed the glacier lakes just head over Glacier with Crampon and ropes. This day all the gears suppose to carry by you unless porters don't have crampon and ropes. While we reach at Col than basic high food will provides and prepare for next day climbing and night at camp.

Day 15: Summit day and back to camp 1
This early morning about 4.00 am start to climb and Guide already has set up the ropes and gears. After light breakfast we start to climb though the rocky part with big boulders and after a walk reach at Glacier part from where it's fairly hard to climb. As you know that we are taking south east route and our leader will take you up to the summit and on the return back we should back to camp 1.

Day 16: A reserve day for conditional situation
This day should keep a reserve day in case of bad weather or disabilities of the climber. If not needed this day we should keep down and this day used to on the way back. We should stay in Camp this reserve day.

Day 17: Trek back to base camp
After a great success of the Kyajo Ri, return back to base camp same day and celebration of the successes trip and overnight at camp.

Day 18: Trek to Namche
After a great success we return back same way but this will be longer day to be in Namche. It takes 4 hrs down to Thamo for the Lunch and 3 hrs back to Namche at camp overnight.

Day 19: Trek to Phakding
Today, leisurely treks back to same trail to Phakding with lunch stop at Monju. From the bridge over the Dudh Kosi, we trek back to Phakding for the overnight at camp.

Day 20: Trek to Lukla
This morning we trek back to Lukla, you can walk at your own pace and enjoying the lush green scenery around and passing through the incredible mountain scenery and local Sherpa village. Arrival in Lukla and you'll have time to stroll around the areas and guide will re-confirm your flight ticket and enjoy the last celebrate dinner with your crew member and overnight at camp.

Day 21: Fly back to Kathmandu
The flight time to Kathmandu, are schedule for morning normally, because of the wind in the afternoon, sometime the flight time can be delayed due to bad weather and other reason beyond our command. Anyway we will fly back to Kathmandu and your guide will transfer to hotel. You may have time to relax after long journey and take back your breath and rest at your hotel.

Day 22: Leisure at Kathmandu
This pleasant day you may have full day at leisure and either relax at hotel or explore the Thamel and overnight at hotel. If the flight cancelled yesterday should fly back to Kathmandu this day and this day as a secure your onwards international flight so this should keep a leisure day at Kathmandu. Evening will have farewell dinner and overnight.

Day23: Departure from Kathmandu
Today is free or last minute shopping for souvenirs or gift to your family, friends or relatives for you until your departure flight/drive or to commence any extra trips or activities you may have booked with us. If departing, you'll be transferred to the International Airport for your departure flight to your onwards destination.

Note: The itinerary may flexible during the trek depending upon the clients requirements and fitness.
Extending your holiday
In Nepal, there are many choices and options if you'd like to extend your holiday before or after your main booking. Here are just a few suggestions of extensions available for this trip:
- Travel to the Trans Himalayan country with its mysterious and spiritual land of Tibet
- Visit land of the thunder dragon known as Bhutan
- Take a memorable wildlife safari with Elephant back ride in the Chitwan National park
- White water River rafting in the Himalayan country of Nepal
- 1 hour amazing mountain flight closest to the Mt. Everest
- Visit Darjeeling/Sikkim tour to India.
- Extend your trek in different trekking areas
- Bungee Jumping, Paragliding, Mountain biking and many more. >>>

Service Includes:
4 night's deluxe twin sharing accommodation in Kathmandu in 4 star hotel
All local transportation by suitable vehicle(car, van, bus) in Kathmandu
Complementary welcome and farewell dinner in Kathmandu
Rock climbing course or Kathmandu sightseeing with guide, vehicle & entry fees
Kathmandu to Lukla to Kathmandu both way flight tickets
Meal on full board (breakfast, lunch, dinner, tea & coffee) basis during the Kyajo-Ri Peak Climbing
Accommodation on tented camp during the Kyajo-Ri peak Climbing as per itinerary
Climbing leader (English speaking, First Aid and eco trained), camping chef and Sherpa porters, all payments with insurance
Sagarmatha National park entry fee and TIMS permit
Climbing peak permit/s & other necessary fees
Exclusive medical kit bag
Emergency Oxyzen, Gamow bag
Mobile phone for the communication onpay call basis
Necessary group climbing gear & equipments
Safe drinking water
Sleeping bag and down jacket
All government and local taxes
Intl. flight ticket re-confirmation
Submit your tourist registration form to the require embassy/consulate
Service does not Includes:
Visa fees, intl. airfare & departure taxes
Garbage deposit USD 250.00 (Sharing of the total person) and deposit fee will be not refunded if the clients (climber) don't take back their garbage Kathmandu.
Personal climbing equipment (can be hire in Kathmandu)
Excess baggage charges
Lunch and dinner in city
Travel and rescue insurance
Personal expenses e.g. phone calls, laundry, bar bills & extra porters
Tips for driver, guides and porters
Anything does not includes in service inclusive column
Enjoy the adventure with our Himalayan guides and take good memories away with you from Nepal.