Service Categories
Clients References

Hi, we are Catherine and Adele from Australia. We have just completed the Annapurna Sanctu ary Trek. After arriving in Kathmandu without a guide, which can be some what stressful. Someone without a guide, which can be some what stressful. Someone
More>>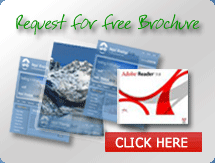 Quick Inquiry Form
Trip Highlights
| | |
| --- | --- |
| Trek & Climbing route  | : Lukla to mera summit & lukla |
| Total Duration   | : 19 night's/20 days in total |
| Trek & Climbing Duration | : 16 days |
| Grade | : Adventurous to Challenging |
| Max. Elevation | : 6476meters at top of the Mera Peak |
| Trekking style | : Camping |
| Meal | : Full board on trek break fast in city |
| Accommodation | : Tented camp |
| Transportation | : Flight & private vehicle |
| Best Months  | : Sept - Nov & Mar - May |
Trip Introduction
Mera peak climbing (6,476m/ 22,242ft) is an exciting, scenically stunning Mountain becoming popular among trekkers and the highest trekking peak in Nepal at Everest Khumbu valley. Climbing Mera peak is an opportunity to all the experience trekkers and amateur climbers who dreams & dare to stand on the Himalayan summit with a sense of great achievement. Lifting the eyes from Mera and keep on lifting them until, above the clouds, the mighty frieze of the world's 8000 meter Mountains- Everest, Kanchenjunga, Makalu, Lhotse, Cho-Oyu and many other peaks is an unforgettable experience.

Mera Peak climbing begins after a short and exciting flight to the mountain airstrip at Lukla and continues through the high and lovely Valleys. Although physically very demanding on account of the altitude, the climb on Mera Peak is not technically difficult, ascending snow slopes that rarely exceed 30 degrees. Mera peak itinerary has been carefully designed to allow for gradual acclimatization. The walk in, initially through the virgin forest of the Hinku Valley, is incredibly beautiful and provides excellent acclimatization for the peak itself. Our special basic rock climbing course in Kathmandu and ice climbing course at Khare is instructed by Climbing Sherpa to ensure all of you have necessary climbing skills and confidence to summit the top. And our unrivalled service, quality equipment, food, trekking staff and an experienced leader, ensure that your Mera trip will be an adventure experience on Nepal`s highest trekking peak.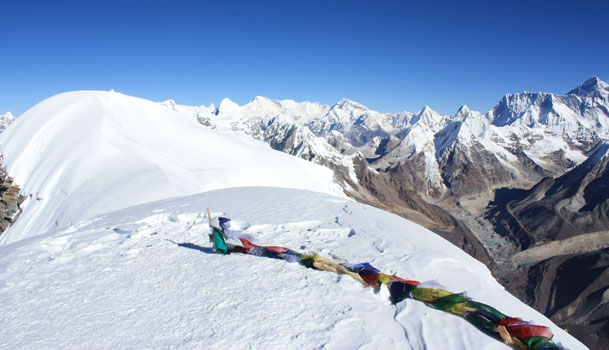 Trekking Itinerary
OutLine Itinerary
Day 01: Arrival day in Kathmandu (1,300m/4,264 ft)
Day 02: Rock Climbing Course in Kathmandu
Day 03: Fly to Lukla (2,800m/9,186ft) & trek to Chutanga (3,450m/11,320ft)
Day 04: Acclimatization day at Chutanga
Day 05: Trek to Tuli Kharka (4,250m/13,944ft) via Zatrwa La pass (4,600m/15,093ft)
Day 06: Trek to Gothey (3600m/11,812ft)
Day 07: Trek to Thagnag (4,350m/14,272ft)
Day 08: Acclimatization day at Thagnag
Day 09: Trek to Khare (5,025m/16,486ft)
Day 10: Ice climbing practice near Khare
Day 11: Trek to Mera base camp (5,350m/17,552ft)
Day 12: Climb to Mera high camp (5,750m/18,865ft)
Day 13: Summit day and descend to Khare
Day 14: Reserve day for unforeseen condition
Day 15: Return back to Gothey
Day 16: Trek to Tuli Kharka
Day 17: Trek back to Lukla via crossing Zatrwa la
Day 18: Fly back to Kathmandu
Day 19: Leisure at Kathmandu
Day 20: Departure from Kathmandu
Day to day Itinerary

Day 01: Arrival day in Kathmandu (1,300m/4,264 ft)
Namaste & welcome to Himalayan Planet of Nepal. While you landed at the Tribhuvan intl. airport Nepal Himalaya Guide representative welcomes you with your name and assists to transfer in your hotel in Kathmandu. After time to get refreshed, bring you at head office and briefing about the program and evening we'll pick up you for welcome dinner in one of the typical Nepalese restaurant with cultural program in the heart of Kathmandu and overnight at Hotel.

Day 02: Rock Climbing Course in Kathmandu
You will be taken to 3 Km drive to the place called Balaju, a natural rock climbing spot for your climbing course before departure to Lukla, a day course will provide excellent opportunities to learn how to use rope, harness, Ice axe, crampons although keeps you physical fitness. Alternatively you can take a world heritage sightseeing for 3 places as desired inside Kathmandu valley. After return we'll brief about trip and group meeting at office and back to hotel for overnight in Kathmandu.

Day 03: Fly to Lukla (2,800m/9,186ft) & trek to Chutanga (3,450m/11,320ft)
This morning you'll be transferred to domestic airport and fly to Lukla. It takes 40 minutes scenic flight up to small airstrip to Tenjin-Hillary airport to Lukla and experience your first breakfasts in the mountains whilst the Himalayan Glacier team organizes porters, while the guide sort and divide the load baggage to be carried by porters. We start our trek further an easy day through the woodland above Lukla. A good trail leads through pasture to the edge of a diminishing forest of rhododendron and pine which clothes the steep hillsides above Lukla. We make steady progress on a good trail, crossing ridges and streams up to 'kharka' used for grazing yaks where we'll stop for 2 overnight at camp at Chutanga.

Day 04: Acclimatization day at Chutanga
This morning after a Himalayan breakfast at the camp we'll have full day leisure at camp or spend a day walking up to a small grassy peak below the Zatra Teng Pass reaching an altitude of (4,000m/13,120ft). There are excellent views out over the valley of the Dudh (milk) Kosi (river), and also views of our route towards the Zatrwa La. We stroll back to our camp at Chutanga for the overnight.

Day 05: Trek to Tuli Kharka (4,250m/13,944ft) via Zatrwa La pass (4,600m/15,093ft)
After a rest/acclimatization day at Chutanga we continue a long day walk around 6-7 hours crossing the Kalo Himal Ridge that separates the Khumbu from the Hinku valley that lead across this ridge is the Zatrwa La, traversing to the right and finally descending steeply to Tuli Kharka (big pasture) where there are several basic lodges. We make camp beside the lodges. Remainder time rest and relax at the camp after a long walk.

Day 06: Trek to Gothey (3600m/11,812ft)
Today, after a breakfast we continue our journey descending to Hinku valley of Gothey. This is a good place to camp and there are several teahouses around and you can visit and go and watch the local lifestyle in the remaining time and we'll camp near by the teashops and overnight.

Day 07: Trek to Thagnag (4,350m/14,272ft)
The following day is another short day as you trek in the shadow of Mera Himal along the ridge of the Hinku Khola. The west bank of the Hinku Drangka northwards, we will take lunch at Gondishung, a summer herders' settlement. Beyond Gondishung we pass a 200 year-old Gompa built beneath a massive boulder, to burn some juniper at the shrine, an offering that just might ensure a successful ascent of Mera Peak. Thagnag is a summer grazing area with the simplest of lodges and shops starting to develop and we overnight in Thagnag.

Day 08: Acclimatization day at Thagnag
Another an acclimatization day is essential here. It is in a superb setting surrounded by stunning peaks. There is a huge moraine in the north of Tangnag where a beautiful glacial lake, Sabal Tsho is dammed which is definitely worth a visit. A cairn (5,270m/17,290ft) on the flanks of Kusum Kangguru can also be rewarding and beneficial for acclimatization. Our climbing Sherpa provide you training course.

Day 09: Trek to Khare (5,025m/16,486ft)
Today we are heading up from Tagnag towards the Mera Base camp at Khare. We follow the lateral moraine of Dig Glacier to Dig Kharka, which offers spectacular views of Charpate Himal. The trail climbs through moraines and to the snout of the Hinku Nup and Shar Glaciers and then climbs more steeply to your camping spot at Khare after 3-4 hrs walk.

Day 10: Ice climbing practice near Khare
This morning after a breakfast, we prepare our gear for ice climbing (This may depends on season and availabilities of Ice if ice not available then we just hike around or rest) - just above the Khare and need to walk couple of hrs from where there are good views of the Mera La and the route up the mountain. This will also be a time for practicing few hrs Ice climbing and our leader will teach you and instruct about the climbing. After few hrs practicing at glacier, stroll back to camp and final preparation of our equipment and packing of our mountain bags and overnight.

Day 11: Trek to Mera base camp (5,350m/17,552ft)
A very short trek allowing for as much acclimatization time and a day walk as you make your way to Mera Base Camp. We first climb to the crest of the moraine above Khare and then up a steep slope of scree or snow to reach a boulder strewn bowl below the lower tongue of the Mera Glacier. Reaching the pass Mera La (5,415m/17,766ft) allows us to see spectacular views; we then descend 100m (328ft) towards the Hongu side and set up base camp in the moraine below the ice and we overnight in Mera Base Camp.

Day 12: Climb to Mera high camp (5,750m/18,865ft)
Making your way to Mera High Camp can be hazardous if it has recently snowed, as there are a number of crevasses here. You make your way to the top of the rock band, which is marked by a large cairn. You set up a high camp and from here the views are outstanding, with Everest, Makalu, Cho Oyu and more piercing the skyline. This evening we overnight in Mera High Camp.

Day 13: Summit day and descend to Khare
This is a big day, we wake up at 2.30 am around and after a breakfast, the group will put on crampons and rope up before setting out for the summit. From the high camp a well acclimatized party will take 3 - 4 hours to the central summit of Mera peak. If time and conditions permit we may opt to make the traverse to the slightly higher north summit. This excursion adds 2 -3 hours to the day is of a more technical nature than the rest of the climb and the decision as to whether we attempt this will be taken by the trip leader. From the summit can be seen the magnificent views of Mt. Everest (8,848m/29,029ft), Cho-Oyu (8,201m/26,906ft), Lhotse (8,516m/27,940ft), Makalu (8,463m/27,766ft), Kangchenjunga (8,586m/28,169ft), Nuptse (7,855m/25,770ft), Lubuche (6,145m/20,160ft), Chamlang (7,319m/24,013ft) are spectacular from the summit. You then retrace your steps to Khare after the climb with a rest and some hot soup at high camp on the way down. A long but inspirational day!

Day 14: Reserve day for unforeseen condition
This day we most kept for the reserve day for the unforeseen condition as weather problem or weakness then you can take this day as your reserve day and if earlier back then you can take the rest somewhere else around. If already climb this day you can use for another Ice climbing day or spent one more night at village of Lukla.

Day 15: Return back to Gothey
After a great succeed of the expedition to Mt. Mera we descending to Hinku valley to Gothey for our overnight stop at camp. Enjoy the evening with local wines or whatever you want to relax at the camp and overnight.

Day 16: Trek to Tuli Kharka
Today, we again climb up through the lush forest on the west side of the Hinku Valley to Tuli Kharka below the Zatwra La where we'll stay overnight at camp.

Day 17: Trek back to Lukla via crossing Zatrwa la
Today, we have a last day for the trek and we start to climb few hundreds meters to the Zatrwa La top will be our last climb of the trip. After the top we descending up to Lukla village where we concludes the trekking part and this evening enjoy with crews at the last dinner at the mountain and overnight at teahouse.

Day 18: Fly back to Kathmandu
The flight time to Kathmandu, are schedule for morning normally, because of the wind in the afternoon, sometime the flight time can be delayed due to bad weather and other reason beyond our command. Anyway we will fly back to Kathmandu and your guide will transfer to hotel. You may have time to relax after long journey and take back your breath and rest at your hotel.

Day 19: Leisure at Kathmandu
This pleasant day you may have full day at leisure at your own or can be extends your extra trip with us on additional cost or time to explore the Thamel for last day shopping and evening company will meet you for the farewell dinner and overnight at hotel.
Day 20: Departure from Kathmandu
Today is free or last minute shopping for souvenirs or gift to your family, friends or relatives for you until your departure flight/drive or to commence any extra trips or activities you may have booked with us. If departing, you'll be transferred to the International Airport for your departure flight to your onwards destination.

Note: The itinerary may flexible during the trek depending upon the clients requirements and fitness.
Extending your holiday
In Nepal, there are many choices and options if you'd like to extend your holiday before or after your main booking. Here are just a few suggestions of extensions available for this trip:
- Travel to the Trans Himalayan country with its mysterious and spiritual land of Tibet
- Visit land of the thunder dragon known as Bhutan
- Take a memorable wildlife safari with Elephant back ride in the Chitwan National park
- White water River rafting in the Himalayan country of Nepal
- 1 hour amazing mountain flight closest to the Mt. Everest
- Visit Darjeeling/Sikkim tour to India.
- Extend your trek in different trekking areas
- Bungee Jumping, Paragliding, Mountain biking and many more. >>>

Service Includes:
4 night's deluxe twin sharing accommodation in Kathmandu in 4 star hotel
All local transportation by suitable vehicle(car, van, bus) in Kathmandu
Complementary welcome and farewell dinner in Kathmandu
Rock climbing course or Kathmandu sightseeing with guide, vehicle & entry fees
Kathmandu to Lukla to Kathmandu both way flight tickets
Meal on full board (breakfast, lunch, dinner, tea & coffee) basis during the Mera Peak Climbing
Accommodation on tented camp during the Mera peak Climbing as per itinerary
Climbing leader (English speaking, First Aid and eco trained), camping chef and Sherpa porters, all payments with insurance
Sagarmatha National park entry fee and TIMS permit
Climbing peak permit/s & other necessary fees
Exclusive medical kit bag
Emergency Oxyzen, Gamow bag
Mobile phone for the communication onpay call basis
Necessary group climbing gear & equipments
Safe drinking water
Sleeping bag and down jacket
All government and local taxes
Intl. flight ticket re-confirmation
Submit your tourist registration form to the require embassy/consulate
Service does not Includes:
Visa fees, intl. airfare & departure taxes
Garbage deposit USD 250.00 (Sharing of the total person) and deposit fee will be not refunded if the clients (climber) don't take back their garbage Kathmandu.
Personal climbing equipment (can be hire in Kathmandu)
Excess baggage charges
Lunch and dinner in city
Travel and rescue insurance
Personal expenses e.g. phone calls, laundry, bar bills & extra porters
Tips for driver, guides and porters
Anything does not includes in service inclusive column
Enjoy the adventure with our Himalayan guides and take good memories away with you from Nepal.