Service Categories
Clients References

Hi, we are Catherine and Adele from Australia. We have just completed the Annapurna Sanctu ary Trek. After arriving in Kathmandu without a guide, which can be some what stressful. Someone without a guide, which can be some what stressful. Someone
More>>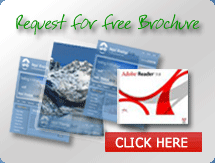 Quick Inquiry Form
Trip Highlights
| | |
| --- | --- |
| Trek & Climbing route  | : Lukla to gokyo chola pass & summit the Nirekha peak to EBC & lukla |
| Total Duration   | : 24 night's/25 days in total |
| Trek & Climbing Duration | : 21 days |
| Grade | : Adventurous to Challenging |
| Max. Elevation | : 6169 meters at top of the Nirekha Peak |
| Trekking style | : Tea house & Camping |
| Meal | : Full board on trek break fast in city |
| Accommodation | : lodge on trek & tented camp on expedition |
| Transportation | : Flight & private vehicle |
| Best Months  | : Sept - Nov & Mar - May |
Trip Introduction
Nirekha peak a great summit in the border Himalayan range based on Khumbu region. This peak relatively located on the chain of Lobuche peak and just east of Cho-la Col which is just few hundred meters above the Cho-la pass. This peak is newly opened Himalayan peak of Nepal and listed on categories of grade 'A' among the trekking peaks in Nepal by Nepal mountaineering Association.  Only experienced climbers should attempt the summit of Nirekha which requires some technical skills of mountain climbing. The summit consists of two summit pyramids as north summit and south summit. North summit is easier but requires to cross a difficult crevasse as south summit requires hard part of one pitch in steep climb on 50° Ice but it is unclear that which summit is higher. The climb itself is relatively straight forward, though it does require technical ice-axe, crampons and some fixed rope sections. It is a very physically possible climb for anyone in good shape and with a desire for high adventure.
This peak has two routes to climb as one from Kanchung base camp and another from Lake base camp. The ascent from the Kanchung side is to be preferred on this itinerary since it is easier and shorter. The glacier to the Cho La Col on the Kanchung side is easy with only a few mostly harmless crevasses. The ascent is mostly in ice and snow, and is comparable to big alpine routes such as the Monch or Bernina. Despite of the relatively small height difference, it demands an excellent condition and acclimatization. This is quite technical but from the top it is one of the best scenery of the Himalayan world. From the top you'll have an opportunity to see the best view of many high mountains as Mt. Everest, Mt. Lhotse, Mt. Nuptse, Mt. Cho yu and other surrounding Himalayan ranges.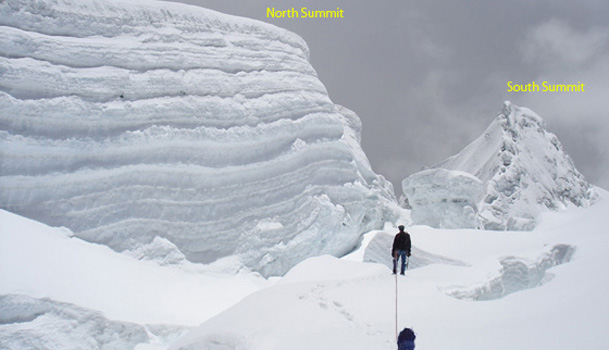 Trekking Itinerary
OutLine Itinerary
Day 01: Arrival day in Kathmandu (1,300m/4,264 ft)
Day 02: Rock Climbing Course in Kathmandu
Day 03: Fly to Lukla & trek to Phakding (2,652m/8,700ft)
Day 04: Trek to Namche Bazaar (3,440m/11,283ft)
Day 05: Acclimatization day at Namche Bazaar
Day 06: Namche to Dole (4,200m/13,776ft)
Day 07: Dole to Machharmo (4,470m/ 14,663ft)
Day 08: Machharmo to Gokyo (4,800m/15,744ft)
Day 09: Hike to Gokyo Ri (5,330m/17,483ft), and rest day
Day 10: Trek to Thaknak (4750m/15580ft)
Day 11: Thaknak to Base camp (5,250m/17,220ft)
Day 12: Rest day at base camp
Day 13: Base Camp to High Camp (5,630m/18,466ft)
Day 14: High camp to summit (6,169m/20,234ft) to high camp
Day 15: Reserve day for unforeseen condition
Day 16: High camp to Cho-la Pass (5367m/17604ft) and to Dzongla (4,850m/15908ft)
Day 17: Dzongla to Gorakshep (5,160m/16,929ft)
Day 18: Trek to EBC (5316m) and back to Gorakshep (5,316m/17,437ft)
Day 19: Kalapathar (5,550m/18,204ft) hike and stroll back to Dingboche (4,358m/14,295 ft)
Day 20: Dingboche to Tyangboche (3,867m/12684ft)
Day 21: Tyangboche to Namche (3,440m/11,283ft)
Day 22: Namche to Lukla (2,800m/9,186ft)
Day 23: Fly back to Kathmandu
Day 24: Leisure at Kathmandu
Day 25: Departure from Kathmandu
Day to day Itinerary

Day 01: Arrival day in Kathmandu (1,300m/4,264 ft)
Namaste & welcome to Himalayan Planet of Nepal. While you landed at the Tribhuvan intl. airport Nepal Himalaya Guide representative welcomes you with your name and assists to transfer in your hotel in Kathmandu. After time to get refreshed, bring you at head office and briefing about the program and evening we'll pick up you for welcome dinner in one of the typical Nepalese restaurant with cultural program in the heart of Kathmandu and overnight at Hotel.

Day 02: Rock Climbing Course in Kathmandu
You will be taken to 3 Km drive to the place called Balaju, a natural rock climbing spot for your climbing course before departure to Lukla, a day course will provide excellent opportunities to learn how to use rope, harness, Ice axe, crampons although keeps you physical fitness. Alternatively you can take a world heritage sightseeing for 3 places as desired inside Kathmandu valley. After return we'll brief about trip and group meeting at office and back to hotel for overnight in Kathmandu.

Day 03: Fly to Lukla & trek to Phakding (2,652m/8,700ft)
Early morning you'll be transferred to domestic airport to fly to Lukla (2,800m/9,186ft). It takes 35 minutes scenic flight to Lukla airport (2,800m/9,184ft) and you will have tea break, while the guide sort out and divide the load baggage to be carried by porters. Guide will manage the lunch place depending upon the time of arrival at Lukla. The trek starts with most scenic view of Numbur Himal & Phari.  We further on to Phakding passing some Sherpa farm villages. We follow the trail to Dudhkoshi River with gradual with few ups from Thado Koshi, where you can have a lunch with superb view of Kusum-Kangaru (6,369m/20,890ft) crossing a short suspension bridge, from here after a short climb brings us to the Ghat village, another 1 ½ hr of gradual walk brings you to Phakding village for the overnight stop at lodge after 3-4 hrs walk and reminder stroll around the village for local knowledge.

Day 04: Trek to Namche Bazaar (3,440m/11,283ft)
The trek start in the morning and after crossing the suspension bridge over the Dudh-Kosi the walk is pleasant with few short uphill and downhill and re-crossing the same river again with magnificent view of Mt. Thamserku (6,608m/21,675ft) from the Benkar village. Trek continuing crossing the bridges and   reaches at Monjo where is entrance gate of the Sagarmatha National Park, where your trekking permit checked and keeps the record of all trekkers going to and from this place including the local trekking staff as well.
When enter the National park boundary we descend and a gradual walk brings us to the suspension bridge over the Bhote-Koshi river, after the bridge Jorsalle village is reached, the last village till Namche Bazaar,  from here the walk is pleasant on the river bed till the last bridge over the Imjatse river is reached, from here the walk is along the winding uphill path all the way to Namche Bazaar, with magnificent view of Kwangde peak and it other sister peaks towards east with Kusum kangaru on the back as you climb higher, view of Mt. Everest, Lhotse and the closer view of Tawache peak can be seen from some part on the way to Namche. Finally we reach at colorful houses called Namche Bazzar main gate of Khumbu region after 5-6 hrs walk and we overnight stay at Lodge.

Day 05: Acclimatization day at Namche Bazaar
You may  have full day leisure today for the acclimatization or stroll around the market, if Saturday can be seen many people in Saturday market for shopping to fulfill their daily needs and only one shopping market in the surrounding areas. Also you can visit Sherpa Museum as well a great place to learn Sherpa culture and history of mountaineering or visit up to the luxury Everest view hotel & Syangboche airstrip and stroll back to hotel for overnight.

Day 06: Namche to Dole (4,200m/13,776ft)
After good day at Namche, today our walk follows on the gradual trail about couple of hours with most scenic trails and after Sanasa a short uphill overlooking magnificent view of the great giant snow peaks from Everest, Nuptse, Lhotse, Ama Dablam, Thamserku and Kwangde peak after a pleasant walk through the rhododendron forest and get a view point of Mongla, where from you can be seen the best Himalayan views and decent to Phortse Thanga. Enjoy the walking and further few hours walk ascending will reach at Dole for overnight after 5-6 hrs walk. A small place with few teahouses and enjoy your night at Dole.

Day 07: Dole to Machharmo (4,470m/ 14,663ft)
Firstly, we climb to the scenic ridge above the Dole and the trail climbs via Lhabarma at 4220m to Luza at 4360m. The path is steep in most places as it climbs through scrub to Lhabarma. The trail continues to climb along the side of the valley high above the river, crossing sandy spurs to reach Machharmo at 4410m. It was in Machharmo in 1974 that one of the first Yeti sightings was reported in Khumbu. There are few good condition hotels and good mountain views from Machharmo and it takes 3-4 hrs walk. Afternoon after reaches and refreshed visit Himalayan rescue association and overnight at the hotel.

Day 08: Machharmo to Gokyo (4,800m/15,744ft)
Today, we climb up to the ridge and can be seen excellent view both down the valley to Khangtega and northern part to the Cho-Oyu (8153m). Beyond the ridge the valley widens as the trail passes through Pangram at 4390m. We descend to the river bank before beginning the climb up to the terminal moraine of the Ngazumpa glacier. It is a steep climb on the moraine. Afterwards the trail levels out as it follows the valley past a second lake, known as Longponga at 4690m, where you'll have chance to find the Lama Foot prints on a stone. Enjoy the lake view and after an hour walk will reaches at Gokyo valley at 4,750m, on the edge of third lake. There are some few teahouses with comfortable bed room and after lunch explore around the Lakeside and overnight at Hotel.

Day 09: Hike to Gokyo Ri (5,330m/17,483ft), and rest day
This morning hike up to Gokyo Ri for the breathtaking view of splash a sunrise top of the mountain including Mt. Everest view and much more Himalayan scenery. This will be unforgettable life time memories and enjoy around the top. We have a great memories and stroll back an hour's to Gokyo for breakfast. Reminder is full day rest at Gokyo valley and explore around.

Day 10: Trek to Thaknak (4750m/15580ft)
After a wonderful time at Gokyo valley today we trek down to Thaknak for the overnight passing through the second lake and walk on the glacier and will reaches at Thaknak after 3-4 hrs walk. Sometimes on the busy season it's hard to get a room then they operated tented camp as well.

Day 11: Thaknak to Base camp (5,250m/17,220ft)
Today, we heads further on to our journey with steep way climbing passing through the some glacier ponds and walk with snow boulders and rocky mountain.  There is two route of climbing Nirekha as we follow the Kanchung base camp which is easier then Lake base camp part. We'll pitch our camp here at Kanchung base camp.

Day 12: Rest day at base camp
Today, we have full day rest at base camp for well acclimatize. This day we can learn about techniques about climbing, Making knots and using other safety matter with our climbing guides and overnight at camp. It is required to fix the ropes depends on ice and snow way to high camp and if necessary Guide will fixed the ropes to high camp and overnight at camp.

Day 13: Base Camp to High Camp (5,630m/18,466ft)
After early breakfast and packed camping stuff, we'll head on to the High camp from where we start our climb. From the Kanchung base camp head towards north and follow a trail up the steep scree slope. We traverse to the right across some rock slabs, reaching flat territory just below the glacier. The glacier is mounted on the left south border. Follow the glacier on an east trail until reaching the flat caldera just below the Cho La col where we'll have for the overnight. It takes just about 2 hrs to the high camp.

Day 14: High camp to summit (6,169m/20,234ft) to high camp
Today, day of our destination and as start our climb early morning follow the West-ridge that consists of snow and loose rock. A first serac can easily be by-passed on the right south side in snow and ice (35-40°). Get up to the ridge again (18,532ft) and follow the ridge that gets steeper. Depending on the ice situation, belaying is necessary. Some ice bars are already in place. After about 265ft, the ridge gets again steeper. A good belay place is just below a short upswing of the ridge (put 2 ice screws). From here follow the ridge (ice, 50°, exposed) for 165ft , a good belay place is on top of the big serac. A different but less preferable way follows the fix rope (check the anchors!) to the left, however, it requires to get across a steep (60°) ice wall.
Jump across a crevasse to gain the big terrace from the belay place. Climb it (165 ft in 45°) then follow the serac ridge that is steep and exposed for some feet. By-pass a large crevasse and climb a short ice slope. From this point the summit can already be seen. Walk towards south, gaining a ridge. At the end of the ridge, a short but very steep snow/ice wall (7ft at 90°) eventually imposes problems. The next ice wall can be by-passed on the left north side and climb up to east horizon. From this point, both summits can be seen. To reach the north summit, descent and get carefully over two gaping crevasses. Be aware that at this point the snow will be already soft! Eventually install a good anchor and a fix rope to avoid being stuck on the summit. The summit itself is easily climbed on the N-side (16ft at 45°, not exposed).
To reach the south summit, follow the ridge to the steep pyramid. The pyramid is climbed in one pitch of steep ice. It takes 7 hrs to get to top and after a successful summit can be seen the wonderful scenery and return back to high camp for the overnight.

Day 15: Reserve day for unforeseen condition
This day we most kept for the reserve day for the unforeseen condition as weather problem or weakness then you can take this day as your reserve day and if earlier back then you can take the rest somewhere else around may be in Dingboche valley and use this day to explore the Chuukung. This day may stay at camp or teahouse base on the condition.

Day 16: High camp to Cho-la Pass (5367m/17604ft) and to Dzongla (4,850m/15908ft)
As our continuing journey, we descent and walk in the high passes to cross the Cho-la at 5,367 meters height. The pass is not difficult but it is steep and involves a glacier traverse on the eastern side. After crossing the Cho-la pass and reaches at Dzongla for overnight stop at teahouse. It has a very basic dorm room with cozy dining but busy season used to stay at tent also. It takes 5-6 hrs walk to get here. Enjoy the fantastic view around the high above.

Day 17: Dzongla to Gorakshep (5,160m/16,929ft)
We continue trek along the moraine of the glacier, with views of Kalapathar and Pumori, before reaching at Lobuche (4910m) for lunch. You'll have good chances for the best view of Mt. Nuptse a front of you walking along the Gorekshep. The trail up to the Gorakshep is rocky and windy but it offers the good view of Pumori and there are beautiful views of the Everest Base camp and glacier with scenic Mountain View. We stop at the Gorakshep and enjoy the night at higher elevation but care with drinks and sincere with altitude.

Day 18: Trek to EBC (5316m) and back to Gorakshep (5,316m/17,437ft)
After the breakfast at Gorekshep we ready for our adventure to the targeted destination and we continues our trek towards the Everest Base Camp and to the Khumbu Ice-fall, the path from here can be misleading, follow the lead Sherpa, every year the trail changes due to the movements of the glacier, the walk is quite strenuous due to the high altitude and thin air, the walk passes through over rocky dunes and moraine and streams, till you reach the base camp. Everest Base Camp is lively with commotion during the high expedition season. It takes 2-3 hrs to get to base camp and after a grand time here retrace the journey back to Gorekshep for the overnight at lodge after 5-6 hrs walk.

Day 19: Kalapathar (5,550m/18,204ft) hike and stroll back to Dingboche (4,358m/14,295 ft)
Early morning our journey continue steep climb to the top after 2 hour walk on our pace. After reaching the top, you will feel beaming as you achieve the moment that you been dreaming, since the beginning of the journey. Top of Kalapathar is a small rocky peak on the southwest ridge of Mt. Pumori, the view from here is beyond imagination as the Everest looks amazing, the panoramic view from this spot is something to cherish, and you feel its worth the hard climb up to here and to feel at the top of the world, and can be seen to the south Khumbu glacier sweeps below you, and you can also see the Everest Base camp down below on the moraine of Khumbu glacier and lot of picturesque scenery. Stroll back to Gorekshep and re-track to Dingboche for overnight stop at our teahouse after 6-7 hrs walk.

Day 20: Dingboche to Tyangboche (3,867m/12684ft)
The walk today will be easy heading downhill to a lower elevation from Dingboche the walk is pleasant and all the way to Tyangboche. Start from Dingboche valley and getting down to bridge our route descends following the stream towards Pangboche village, and further down to Tyangboche is one of the most beautiful place in the Himalaya the first thing that comes to your eye is the big Monastery or Gumba, then the large field with campsites and teahouses, lodges beneath the towering majestic beautiful peak Ama Dablam, Everest, Mt. Lhotse and Lhotse Shar towards north east and more peaks all around you.

Day 21: Tyangboche to Namche (3,440m/11,283ft)
Trek down to Phungithanka a small settlement with couple of teahouses. The trail leads down hill through the forested path of silver fir, blue pines, rhododendron and some few magnolia and birch trees and with a great memories and after crossing the suspension bridge over the Dudh Koshi river trek onwards to the Sanasa and re-track to Namche bazzar for the overnight stay.
(Breakfast, Lunch, Dinner & teahouse accommodation included).
Day 22: Namche to Lukla (2,800m/9,186ft)
After a long walk today we'll have long and last day trek back to Lukla, Firstly we descend the long way before cross the bridge and further walk to Monju and ten Phakding for lunch. We trek back with enjoying the lush green scenery around and passing through the incredible mountain scenery and local Sherpa village. Arrival in Lukla and you'll have time to stroll around the areas and guide will re-confirm your flight ticket and enjoy the last celebrate dinner with your crew member and overnight at Hotel.

Day 23: Fly back to Kathmandu
The flight time to Kathmandu, are schedule for morning normally, because of the wind in the afternoon, sometime the flight time can be delayed due to bad weather and other reason beyond our command. Anyway we will fly back to Kathmandu and your guide will transfer to hotel. You may have time to relax after long journey and take back your breath and rest at your hotel.

Day 24: Leisure at Kathmandu
This pleasant day you may have full day at leisure at your own or can be extends your extra trip with us on additional cost or time to explore the Thamel for last day shopping and evening company will meet you for the farewell dinner and overnight at hotel.

Day 25: Departure from Kathmandu
Today is free or last minute shopping for souvenirs or gift to your family, friends or relatives for you until your departure flight/drive or to commence any extra trips or activities you may have booked with us. If departing, you'll be transferred to the International Airport for your departure flight to your onwards destination.

Note: The itinerary may flexible during the trek depending upon the clients requirements and fitness.
Extending your holiday
In Nepal, there are many choices and options if you'd like to extend your holiday before or after your main booking. Here are just a few suggestions of extensions available for this trip:
- Travel to the Trans Himalayan country with its mysterious and spiritual land of Tibet
- Visit land of the thunder dragon known as Bhutan
- Take a memorable wildlife safari with Elephant back ride in the Chitwan National park
- White water River rafting in the Himalayan country of Nepal
- 1 hour amazing mountain flight closest to the Mt. Everest
- Visit Darjeeling/Sikkim tour to India.
- Extend your trek in different trekking areas
- Bungee Jumping, Paragliding, Mountain biking and many more. >>>

Service Includes:
4 night's deluxe twin sharing accommodation in Kathmandu in 4 star hotel
All local transportation by suitable vehicle(car, van, bus) in Kathmandu
Complementary welcome and farewell dinner in Kathmandu
Rock climbing course or Kathmandu sightseeing with guide, vehicle & entry fees
Kathmandu to Lukla to Kathmandu both way flight tickets
Meal on full board (breakfast, lunch, dinner, tea & coffee) basis during the Nirekha Peak Climbing
Accommodation on tented camp during the Nirekha peak Climbing as per itinerary
Climbing leader (English speaking, First Aid and eco trained), camping chef and Sherpa porters, all payments with insurance
Sagarmatha National park entry fee and TIMS permit
Climbing peak permit/s & other necessary fees
Exclusive medical kit bag
Emergency Oxyzen, Gamow bag
Mobile phone for the communication onpay call basis
Necessary group climbing gear & equipments
Safe drinking water
Sleeping bag and down jacket
All government and local taxes
Intl. flight ticket re-confirmation
Submit your tourist registration form to the require embassy/consulate
Service does not Includes:
Visa fees, intl. airfare & departure taxes
Garbage deposit USD 250.00 (Sharing of the total person) and deposit fee will be not refunded if the clients (climber) don't take back their garbage Kathmandu.
Personal climbing equipment (can be hire in Kathmandu)
Excess baggage charges
Lunch and dinner in city
Travel and rescue insurance
Personal expenses e.g. phone calls, laundry, bar bills & extra porters
Tips for driver, guides and porters
Anything does not includes in service inclusive column
Enjoy the adventure with our Himalayan guides and take good memories away with you from Nepal.